Looking for a quick and easy breakfast?  Try our vegan Strawberry Banana Oatmeal Breakfast Smoothie!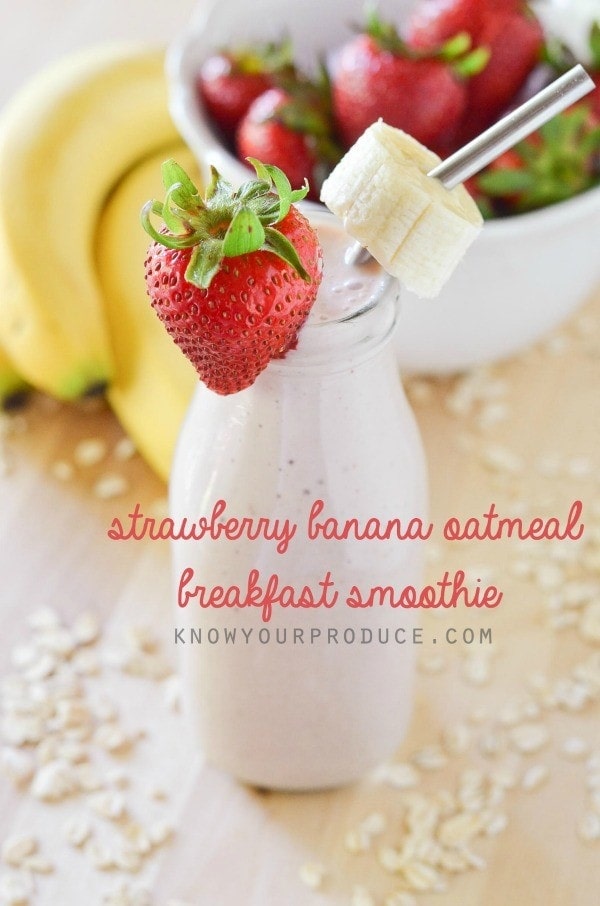 Check out all of our other favorite recipes on Pinterest! 
We love to start our day with a huge smoothie and now that our daughter can eat oats we're having a ton of fun.  Oatmeal is delicious with tons of fresh fruit, but our daughter is so new to oats that we're keeping oats simple.
Our Strawberry Banana Oatmeal Breakfast Smoothie was guaranteed to be a winner for her.  She devoured her entire smoothie in less than 5 minutes and then asked for MORE!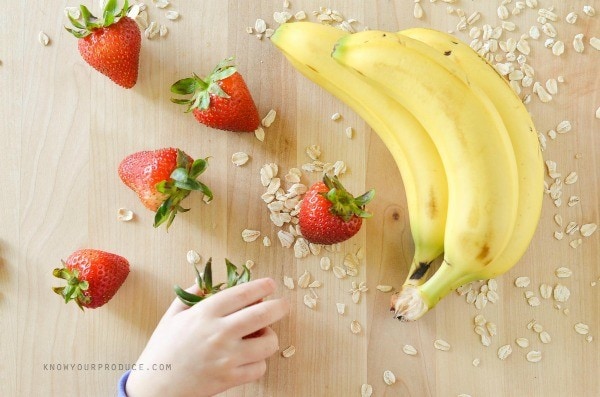 Products we used:
Vitamix 5200 Series Blender, Black
Wedderspoon 100% Raw Premium Manuka Honey KFactor 16+, 17.6 oz
Frontier Organic Vanilla Flavoring, 4 Ounce
OXO Softworks Strawberry Huller
KOVOT 11-Oz Glass Milk Bottle Set of 12 – Includes Reusable Lids and Straws
SipWell Stainless Steel Drinking Straws, Set of 4, Free Cleaning Brush Included
&
We love to use beautiful, fresh sweet strawberries in this Strawberry Banana Oatmeal Breakfast Smoothie.  For the banana, we like to use frozen.  We buy tons of bananas at the store and let them get a bit brown.  Once the bananas are brown we peel them and freeze the bananas for smoothies, blend into juices or even make banana ice cream!
We like to use natural sweeteners like honey, agave or maple syrup.  Since we were making a smoothie we stuck with fresh local raw honey.  You can use less or more sweetener depending on how sweet your strawberries are (learn how to pick strawberries).  It's a little thick, but blends right into our smoothie in our Vitamix.  We also own a Blendtec that works really well too!
The main reason we suggest using a higher speed blender is to really grind down the oats. You can pour into any fancy glass or even into a mason jar and drink it through a stainless steel straw. You can buy stainless steel straws online in different varieties.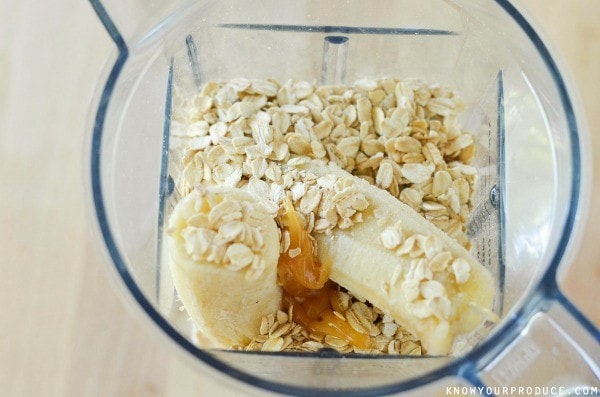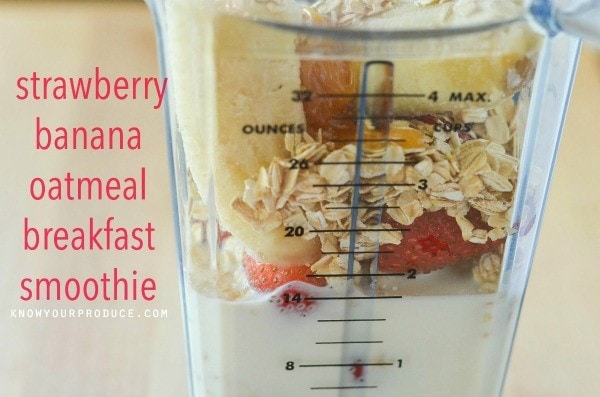 This smoothie makes enough for two people or one large serving for yourself if you're not eating anything else for breakfast.  We like to pair our Strawberry Banana Oatmeal Breakfast Smoothie with scrambled eggs  or avocado toast.   We really hope you enjoy this recipe and can't wait to hear how you like it!

Strawberry Banana Oatmeal Breakfast Smoothie
Ingredients
1 Cup Coconut Milk (you can use almond, soy or regular milk too!)
5-10 Strawberries
1 Large Frozen Banana
¾ Cup Rolled Oats
1 Teaspoon Tahitian Vanilla
1 Teaspoon Raw Honey
Instructions
Place all the ingredients into a blender and blend until smooth.
Enjoy!
*Note: the more strawberries you use, the more pink it will be. Our daughter loves it a little more pink.
If you enjoyed this recipe, try out these recipes too!