This Healthy Strawberry Mango Smoothie recipe is refreshing and perfect to enjoy for breakfast, you can add your favorites like chia seeds, hemp hearts, flaxseed, or even leafy greens! This is a gluten-free, vegetarian, and vegan smoothie.
Our strawberry mango smoothie is loaded with Vitamin C, Potassium, Vitamin A, Fiber, Calcium, and Iron! To reduce the sugar you can leave out the orange juice and use water + a fresh orange, but just note that it won't be as sweet. This is quite a tasty smoothie recipe, so we hope you enjoy it!

How to make Mango Strawberry Smoothie

all about oranges – all about mangoes – all about strawberries
The must haves are strawberries and mango. We also add a banana for extra creaminess, but the mango actually adds a creaminess on its own. We then add in orange juice, about a cup. We add a little water to some fresh squeezed orange juice to water it down since we're only using fruits. Another option is to use a fresh orange instead of the orange juice, it will still taste delicious, just not as sweet, and it will also have more pulp.
We like to use fresh strawberries, frozen mango, frozen bananas, and then the juice. We find that this combination results in a thick and creamy smoothie. It's not too thick like a nice cream and it's not too thin like a whole juice, it's just right!
This is a delicious smoothie as is, that being said you can add even more nutrients by adding your favorite protein powder, chia seeds, hemp hearts, or leafy greens. This smoothie can definitely be a delicious base for other added ingredients.
How do you add ingredients in your blender for a smoothie?
When you're adding liquids and solids, especially frozen solids, to a blender you need to ensure that you're putting the liquids in first. If you place the liquids in the blender last you will most likely create a huge ice chunk, resulting in more work for your blender and potential smoothie problems, no one wants smoothie problems, right?
Here's the smoothie layering order we follow:
Liquids
Powders
Leafy Greens
Soft/Fresh Ingredients
Nuts/Seeds
Frozen Fruit/Ice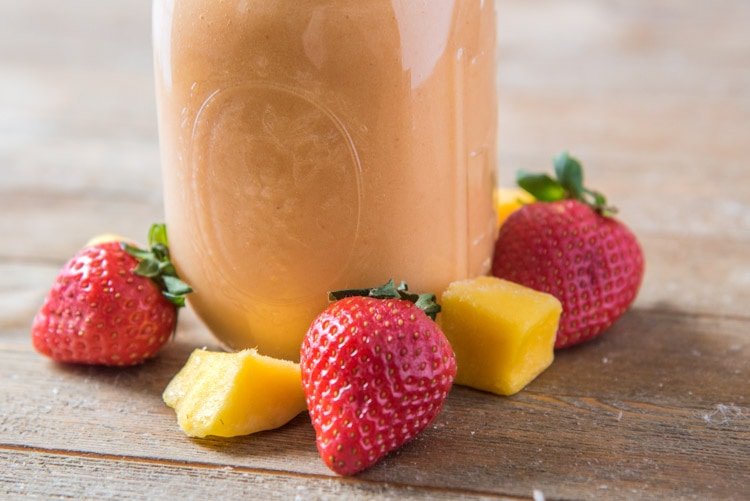 I'm a huge fan of a whole fruit smoothie along with my breakfast. I will make about 2 cups so that my daughter and I can each have a little bit with our breakfast, or we'll make a double batch after dinner for our family of 3 to enjoy as a dessert. It's a great way to have a sweet treat, but also eat a little healthy. You could easily enjoy a fruit salad, but to me, this mango strawberry smoothie is just so refreshing and my ideal beverage with breakfast upon rising.
We still suggest drinking and enjoying some water when you wake up, it's just that the smoothie is so refreshing that we instantly perk up when we're making it.

how to make strawberry mango smoothie recipe video
Want more smoothie recipes?
Healthy Strawberry Mango Smoothie Recipe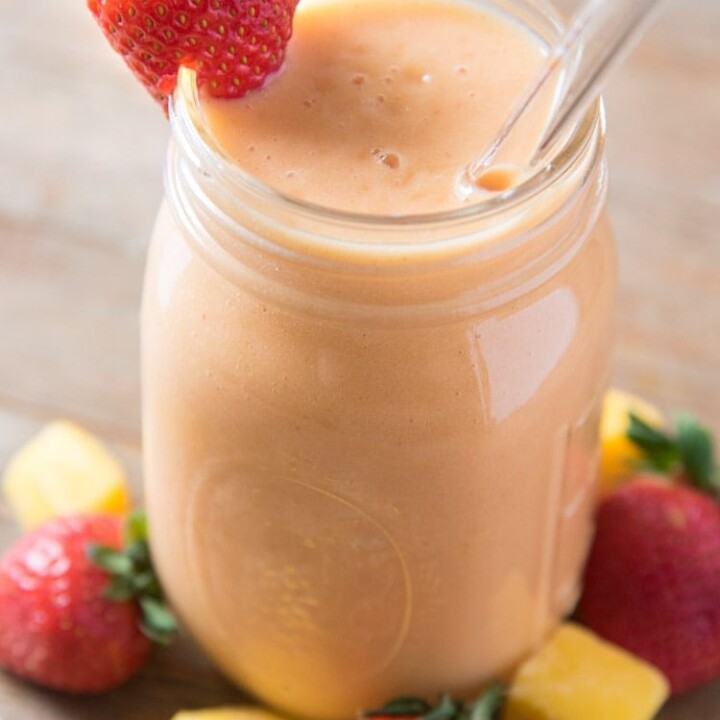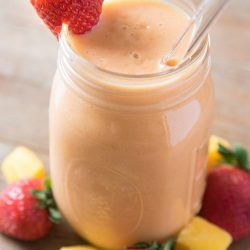 Mango Strawberry Smoothie
This Healthy Strawberry Mango Smoothie recipe is a refreshing and perfect to enjoy for breakfast, you can add your favorites like chia seeds, hemp hearts, flaxseed, or even leafy greens! This is a gluten-free, vegetarian, and vegan smoothie.
(click stars to vote)
Print
Pin
Ingredients
3/4

cup

orange juice

1/4

cup

water

5

whole

strawberries

fresh

1

large

banana

frozen

1

cup

mango

frozen
Instructions
Pour the orange juice and water into your blender.

Add the strawberries, banana, and mango. (if you're adding extra ingredients, go ahead and add those now)

Blend in your blender until completely smooth.
Notes
The nutrition information shown is an estimate provided by an online nutrition calculator. This should not be considered a substitute for a professional nutritionist's advice. Please read our full nutrition disclaimer for more info.
Nutrition
Nutrition Facts
Mango Strawberry Smoothie
Amount per Serving
% Daily Value*
* Percent Daily Values are based on a 2000 calorie diet.
full nutrition disclaimer
The nutritional information is automatically calculated and can vary based ingredients and products used. If the nutrition numbers are important for you we recommend calculating them yourself.