Serve our Israeli Salad with some Shrimp inside a pita pocket for a delicious Mediterranean meal.
Israeli Salad – refreshing and nutritious
This Israeli Salad Recipe is a staple in our home. We make it weekly and we love it with many recipes, especially with our Mediterranean Rice! Easy to make recipe and if you're looking to add some colorful raw veggies to your diet, this is it!
I love how food holds so many memories, and I want to share some of those with you!  I remember when I was a little tike running around with a pita pocket stuff with Israeli salad, hummus, and beef kofta kebab recipe.  I don't eat lamb anymore, but I still enjoy without it!  My favorite way to enjoy it now is with shrimp or beef!  Shrimp cooks up quickly and is perfect for serving multiple guests without all the prep and hassle.
With the summer months, you'll have a beautiful, abundant crop of peppers, so this is a great way to use them up.  If you want to save them, you can freeze them too!  Have you seen our post on how to roast red peppers yet?  They are so good on their own or in our Roasted Rep Pepper Macaroni and Cheese!  We're a pepper loving family.  When I was pregnant, I would eat one red pepper a day.  Now my daughter and I eat one red pepper each every day.  They can be pretty pricey when you buy organic, but they're so good and worth the price.  Our favorite choice is Holland Peppers, so sweet and crisp!  How beautiful is the color of this salad?  Doesn't it just SCREAM summer?
A MUST FOR THIS ISRAELI SALAD RECIPE
CLEAN AND DICED. Wash those veggies well! (check out our recipe for Fruit and Veggie Spray)  We always recommend going organic when you can. Both peppers and cucumbers are on the dirty dozen list. When making this recipe you should be cutting your vegetables really small, evenly diced is best and makes it easier to pack in the pitas!  Don't forget to Can't chop and want an easier way? Try using a veggie chopper, like a nicer dicer. 
The best way to serve shrimp, in my opinion, is with LEMON!  Lots of it too!   Both the Israeli Salad and Shrimp use Lemon.  This is one of my favorite family recipes.  We also like to enjoy this with other grilled proteins or even on it's own.  This salad is so versatile!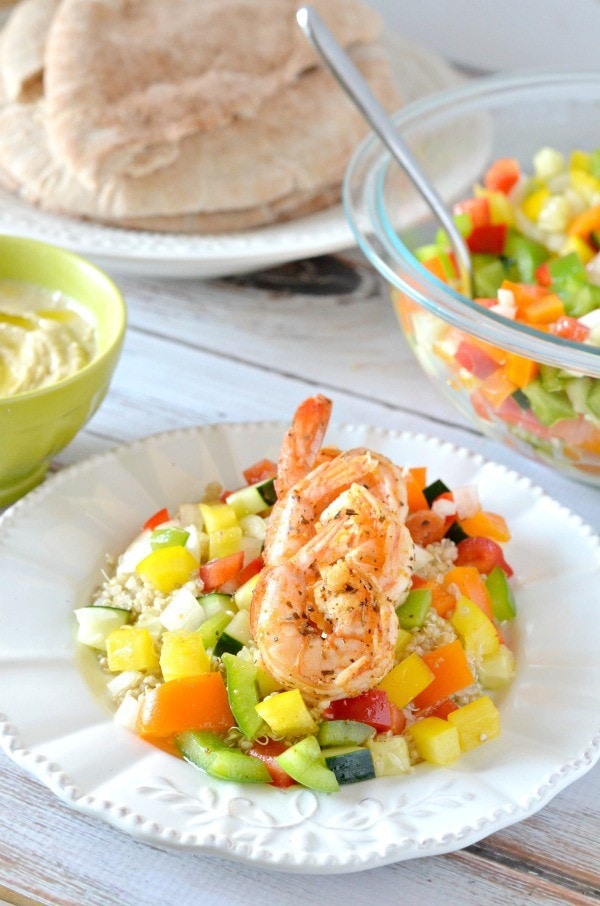 ISRAELI SALAD
Israeli Salad
Ingredients
1

sweet onion

2

cucumbers

2

green peppers

2

red peppers

2

yellow peppers

2

orange peppers

2

jalapeno peppers

seeded and chopped

2

tablespoons

fresh parsley

1/4

Cup

Lemon Juice

3

tablespoons

olive oil

4

garlic cloves

minced

salt and pepper to taste

Shrimp with Seasoning

2

Dozen Large Shrimp

1

Lemon Juiced

1/2

Cup

Olive Oil

1

Teaspoon

Chili Seasoning

1/4

Teaspoon

Cayenne

1/2

Teaspoon

Pepper

1

Teaspoon

Granulated Garlic

1/2

Teaspoon

Basil

2

Cloves

FRESH Minced Garlic

Salt to taste

Cooked Quinoa

Pitas, and Hummus
Instructions
Dice up your onion, cucumbers, and peppers and place in a large bowl.

Add your parsley, lemon juice, olive oil, garlic, and salt and pepper.

Clean and peel your shrimp, then boil Shrimp in a large pot until fully cooked.

Combine lemon essential oil, with remaining ingredients and toss the shrimp in the mixture.

Serve in pitas with Israeli Salad, Quinoa, and Hummus.us.