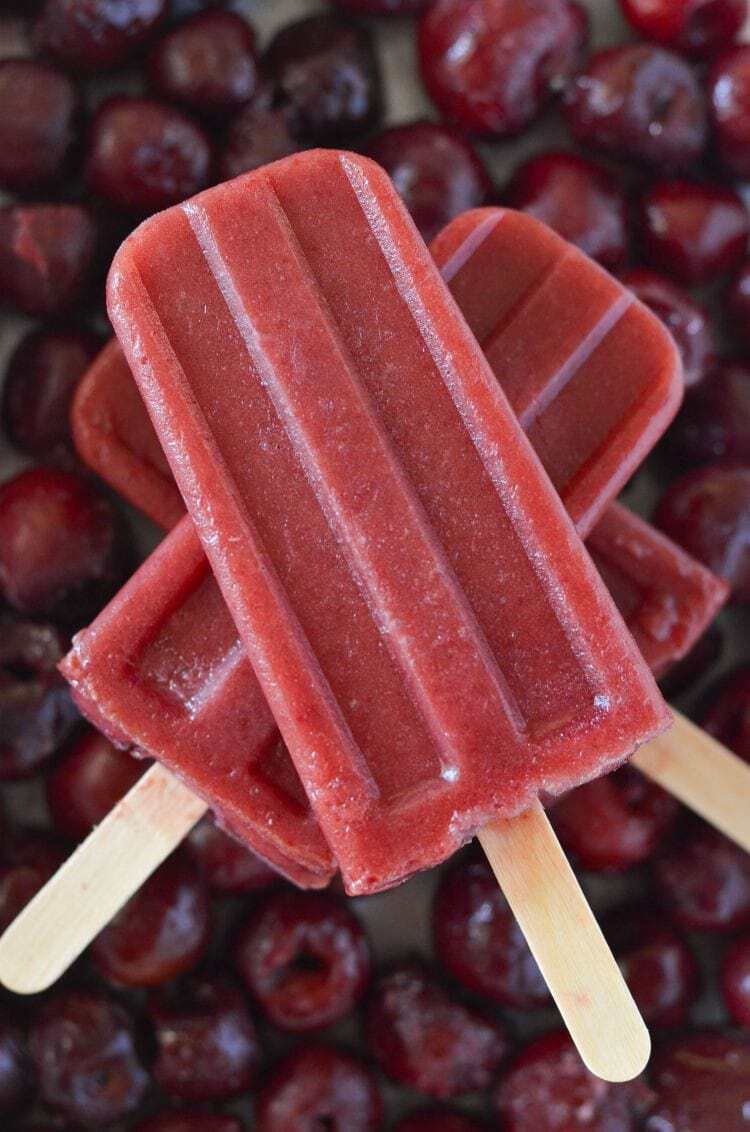 Today we made homemade cherry ice pops with only 3 ingredients.  They're so good and they're healthy too! If you haven't read our post all about cherries, go check it out! 🙂  What we love about these ice pops is the beautiful cherry red color they have and it's all natural.  No added flavors or dyes, just pure, bright, beautiful, organic cherries.
This is by far the best popsicle mold we've found and it looks just like the ice pops you'd get in stores.
We like to buy the big bag of cherries in the freezer section at our local bulk store.  It's extremely affordable and we can use the cherries in multiple recipes and even enjoy on their own. For the most part they're pretty sweet, but sometimes you'll get a little tart cherry here and there so we like to sweeten our homemade cherry ice pops with natural sugars like honey, agave or maple syrup.  You can use sugar instead if you'd like.
This recipe can be made in any blender, but we find that we get the best results with our Vitamix or Blendtec high speed blenders.
These are extremely easy to whip up in the Vitamix.  Literally, have the mix ready in less than 5 minutes and into the freezer!  We had perfectly frozen ice pops in just 4 hours.
Our daughter quickly reminds me all day as they are freezing in the freezer to hurry and check if they're done.  She's pretty used to putting something on the stove or in the oven and it's done quickly.  We recently purchased one of those ice pop machines that freeze ice pops faster and she is enjoying it!
I prefer the look of the old fashion ice pop mold and it truly reminds me of the ice pops I had as a child, just much more nutritious!
I don't mind giving my daughter healthy ice pops and these are fun sweet treat that she truly enjoys!  They're great for the whole family. 🙂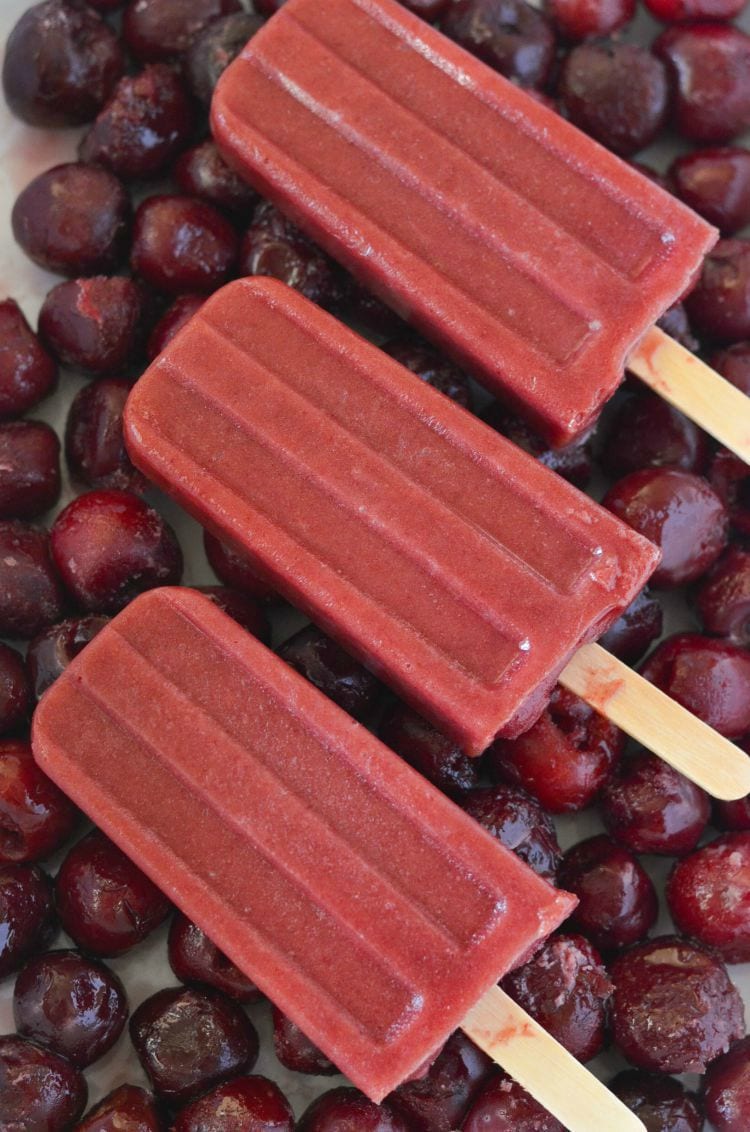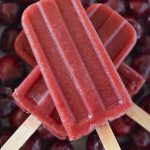 Homemade Cherry Ice Pops With Only 3 Ingredients!
Ingredients
2

cups

frozen cherries

1

cup

water

1-2

teaspoons

honey

agave, maple syrup, or sugar
Instructions
Mix all ingredients in a high speed blender and then place into an ice pop mold.

Freeze ice pops for 4 hours or overnight.
If you liked this recipe you may also like..
Pineapple Lemonade Ice Pops with Blueberries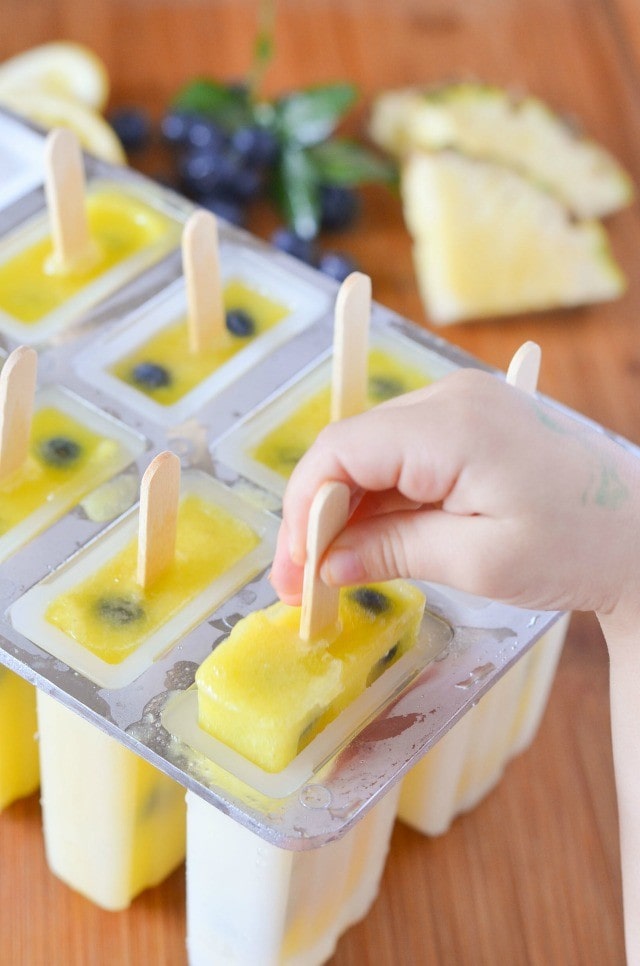 Nectarine Banana Blackberry Homemade Ice Pops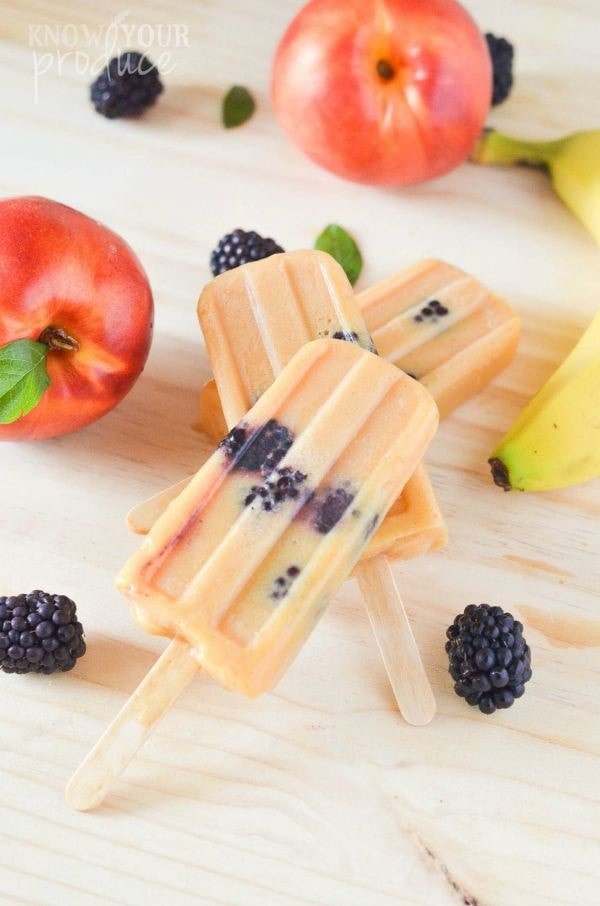 Organic Whole Fruit Strawberry Popsicles
If you enjoyed this recipe, be sure to check out all of our other healthy, delicious and homemade recipes and posts on Pinterest!