Nectarine Banana Blackberry Homemade Ice Pops
Sweet blackberries pair with delicious ripe nectarines and bananas for creaminess.  No added sugar, just complete goodness from nature.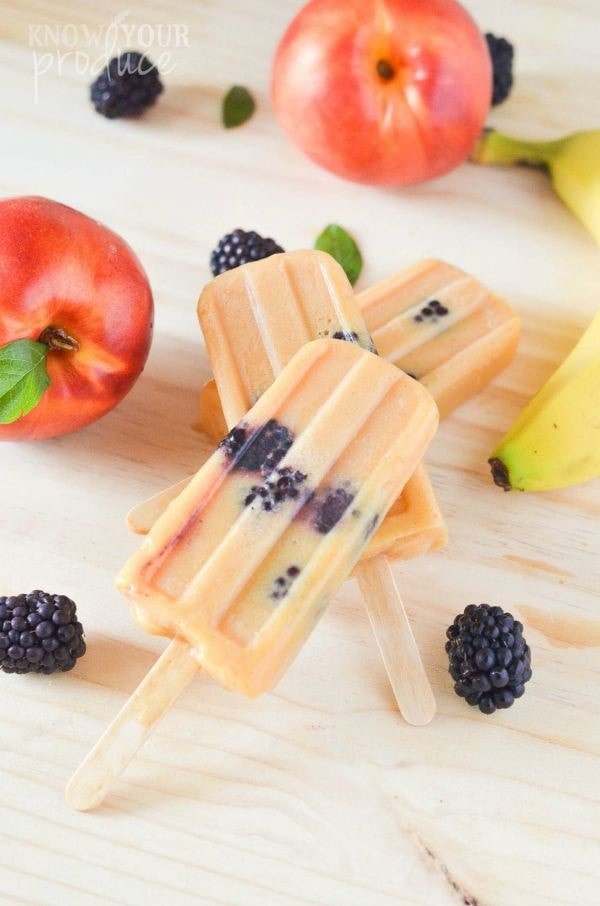 Homemade ice pops are a favorite in this house, especially when it's berry season!  We've been having so much fun going to our local farms and picking beautiful in season berries!  Last month we enjoyed picking blueberries.
Now that the blackberries are finally ripe we went to pick them yesterday.  It's so nice to watch our daughter enjoying fresh fruit, but also knowing how her food is made!  She appreciates it even more when she has to work so hard to pick each and every berry.
This is by far the best popsicle mold we've found and it looks just like the ones you'd get in stores.
We find it so fascinating how quickly she has learned how to pick her fruit.  Not only will she not pick fruit that isn't ripe, she'll even show us which ones that we should pick!  I'm pretty impressed with all the delicious berries she found.
They're so sweet and delicious.  Berries are like candy in our house and we gobble them up!  Fruit and veggies are meant to be fun.  Now she's begging to plant her own little garden so she can pick everything.  We love to walk around our local farms and see everything growing.  It's really nice when they have pick your own areas.  While most aren't organic we only go to farms that use low spray, unfortunately it's very far and few in between for organic farms that allow picking.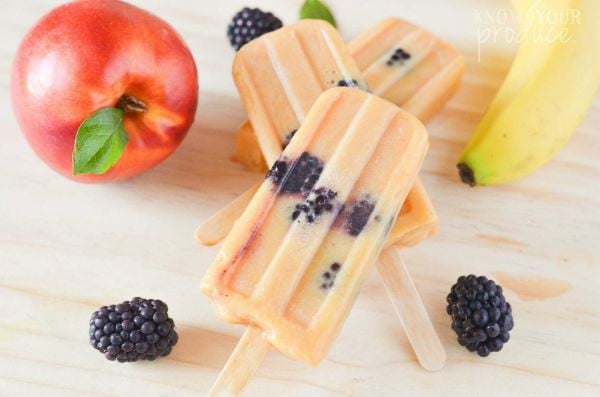 As I was taking pictures of these homemade ice pops a little fruitasaurus came along and took a few nibbles of one ice pop and even took a whole one too!  There's absolutely NO added sugar in our ice pops!  It's just as if you were to sit down with a bowl of fruit.  I don't mind giving my daughter an ice pop like this with her breakfast.  We can't say that about most products aimed towards children on the shelves these days.  Making homemade allows you to control the flavor and most importantly the nutrition.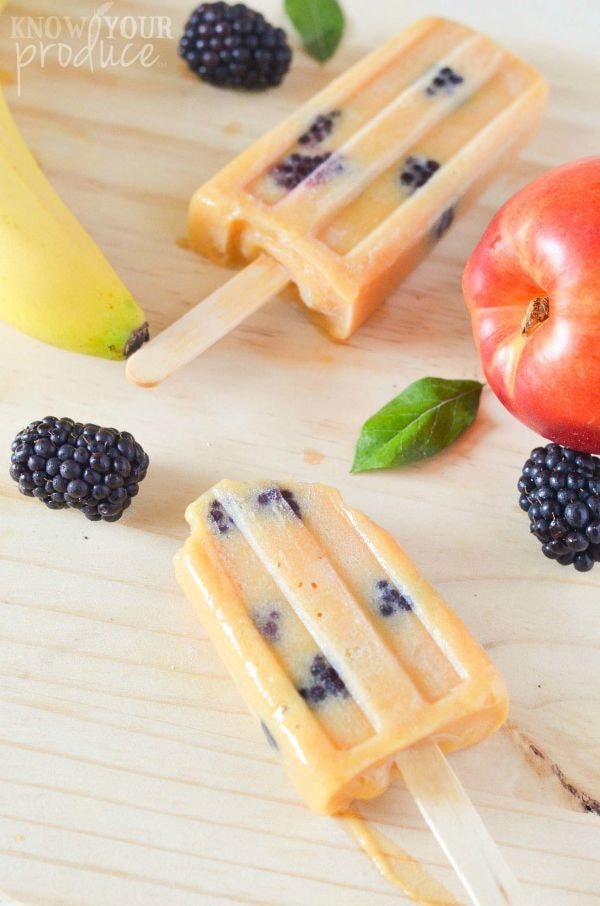 Nectarine Banana Blackberry Homemade Ice Pops
Ingredients
3 Nectarines
1 Banana
1 Cup Blackberries
Instructions
In a blender combine the nectarines and bananas.
Pour the mixture into an ice pop mold and place in some blackberries.
Freeze for about 5-8 hours or overnight.