Learn all about cantaloupe! From benefits of cantaloupe, how to pick cantaloupe, even delicious cantaloupe recipes.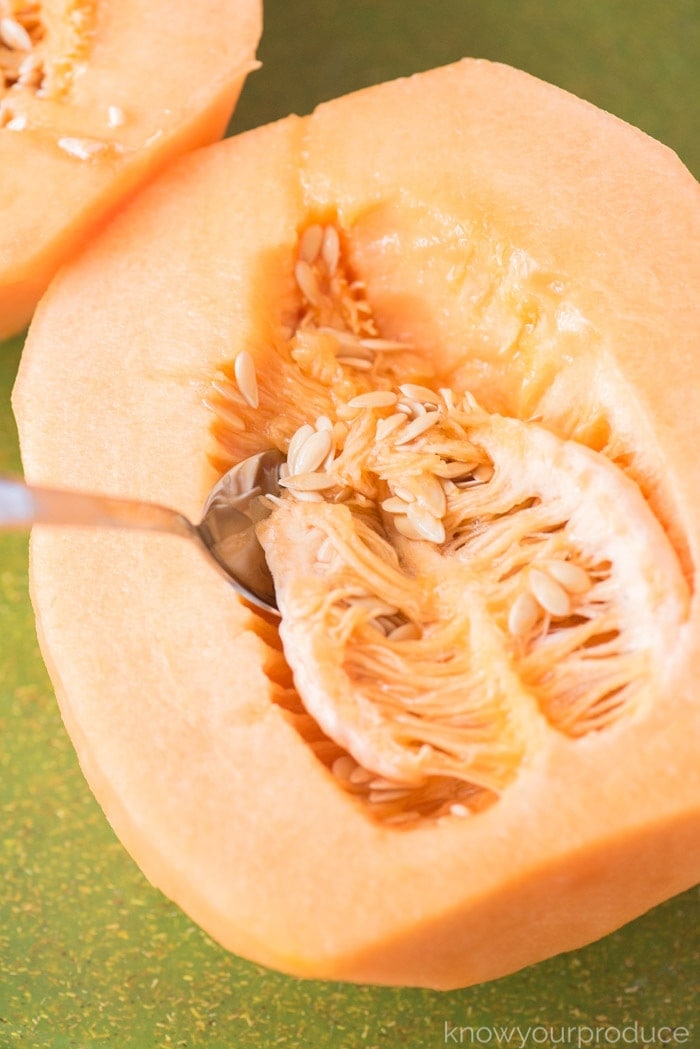 All About Cantaloupe
Ready to learn all about cantaloupe?? Rehydrate with fresh melon! Cantaloupe and other melons have a high water content making them a great snack for the warm months. Cantaloupe is a great source of Vitamin A and C, in fact when you eat one cup serving you reach your daily requirements for these two vitamins!
Cantaloupe is easy to digest making it great for those suffering from IBD. We typically eat it on its own, on an empty stomach. It has a high beta-carotene content, it's even higher than oranges and close to beta-carotene in carrots. One cup serving of cantaloupe balls equals just 60 calories!
FUN FACT: Cantaloupe was first brought to the United States of America by Christopher Columbus is 1492!
when is cantaloupe in season?
You can find cantaloupe year round, but their peak season is June through August.
how long does it take to grow cantaloupe?
It takes about 90 days from seed to ripe fruit when growing cantaloupe.
how to store cantaloupe
Once you purchase your cantaloupe you should cut it within 3 days. If you're not going to use it right away it's best to refrigerate the melon so that it doesn't ripen too quickly before you can use it. You can store cut melon in the fridge for 2-3 days or freeze for longer.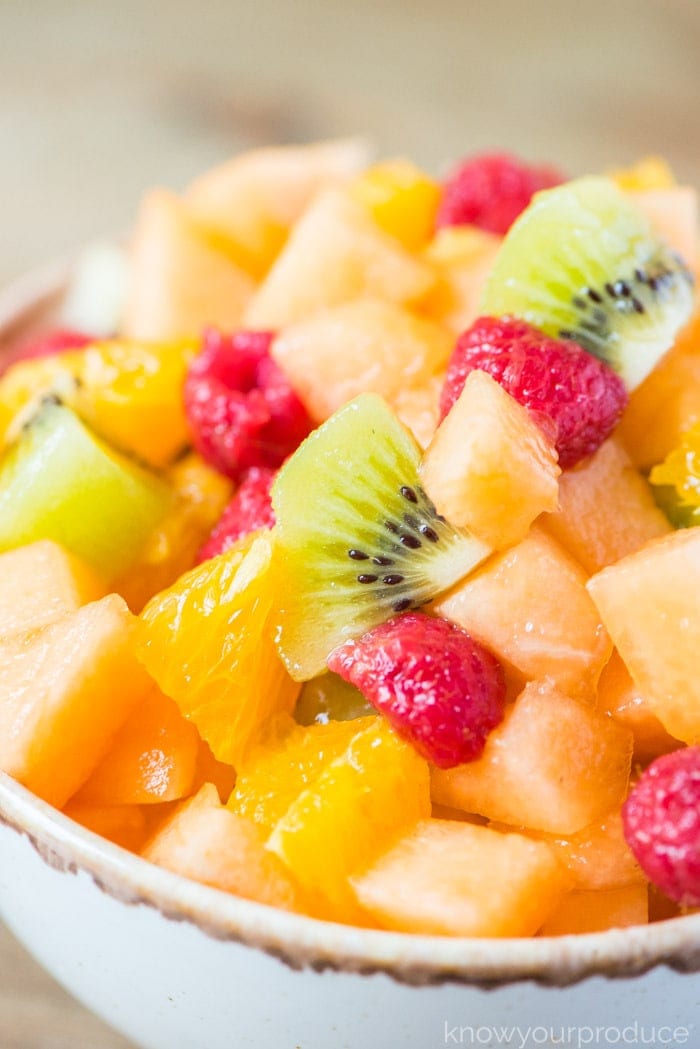 how to pick cantaloupe
The best way to pick out a ripe cantaloupe is by using your nose! When cantaloupe is ripe you'll be able to smell it. It should smell sweet and a little musky. You want to choose a cantaloupe that is yellow-orange, not too much green. The cantaloupe should be heavy, firm, not soft. Really soft spots on your melon mean that it's overripe.
can you freeze cantaloupe?
Yes! We love freezing cantaloupe for recipes and even just to snack on. You can easily freeze cantaloupe just like we do in this tutorial showing you how to freeze strawberries.
how to use cantaloupe
We love using cantaloupe for a healthy snack, a cantaloupe smoothie, salsas, sorbets, and even grilled.
Cantaloupe Recipes
Cantaloupe Smoothie | Know Your Produce – This cantaloupe smoothie makes for the ultimate refreshing summer drink recipe! All you need is fresh cantaloupe, oranges, kefir, vanilla, and some ice to make it.
Cantaloupe Fruit Salad | Know Your Produce – This cantaloupe fruit salad is colorful and refreshing! Serve over greek yogurt or just a spoon, it's so good and easy to make. Plus, it's perfect for potlucks.
Cantaloupe Cake | Mom Foodie – A delicious Cantaloupe Cake with Orange Curd Filling and Coconut Topping.
Honey Lime Fruit Salad | Finding Zest – Whether you are throwing a party, enjoying a cookout with friends or simply want to offer your kids a healthy snack, this Under the Sea Mermaid Honey Lime Fruit Salad is perfect!
Cantaloupe Lime Salsa | The Thrifty Couple – Fruit Salsa is a great way to mix up your favorite salsa, fresh and easy to make.
Lychee Cantaloupe Popsicles | The Flavor Blender – Keep your cool this summer with these refreshingly sweet, fruity Lychee Cantaloupe Popsicles.
Cantaloupe Salad with Cinnamon and Maple | The Kitchen is My Playground – This is one very simple, surprisingly delicious, amazingly tasty little fruit salad.
PIN all about cantaloupe to save for later