This Strawberry Watermelon juice is made with a high speed blender in less than 3 minutes! Raw delicious and nutritious juice drink recipe.
If you love making juice at home this recipe is going to be super simple. You don't need a juicer, in fact you don't even need a high speed blender unless you want it ultra smooth. It's such a simple and delicious juice recipe!
Fun and healthy recipe for kids and parents!
You control the ingredients.
Shelf-stable juices have different ingredients than you would use at home, plus preservatives.  Don't forget it's sitting on a shelf long after it's been made.  No thank you!   This juice is so refreshing and so delicious.  You're going to absolutely love it, pinky swear!
Another thing about this juice is I drank copious amounts while pregnant.  It helped my morning sickness, cured my heartburn, and I NEVER even swelled during my pregnancy – not even towards the end.  Full of lycopene (even more than tomatoes!) this is a juice that will not only quench your thirst, but also your body!  Check out our original post on Courtney's Sweets –>
This recipe can be made in any blender, but we find that we get the best results with our high speed blenders. If you use a blender that isn't as powerful you may get a little bit more pulp, but you can use a mesh strainer to remove or even a nut milk bag.
Not using all of this juice recipe? Turn it into some refreshing Strawberry Watermelon Popsicles to enjoy later.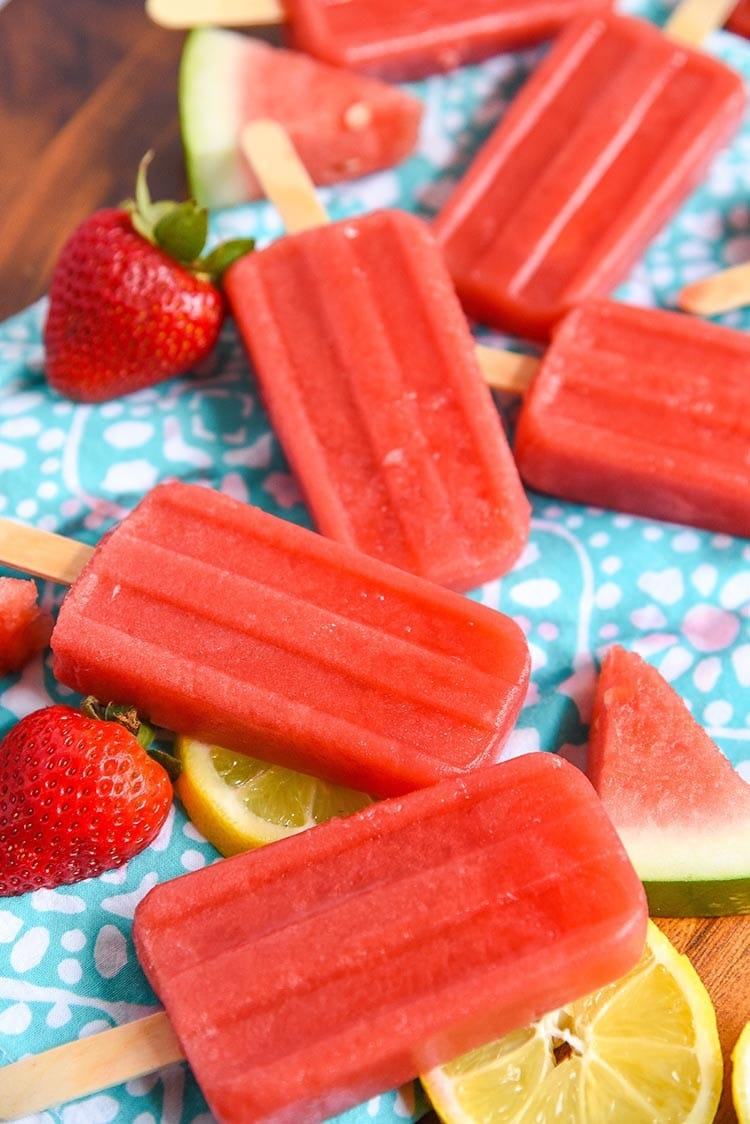 KitchenAid174; Pro Line 3.5 HP Blender Sugar Pearl Silver KSB7068SR

We recently started using the KitchenAid Pro Line Blender and we are VERY happy with the results.
It handles tasks with ease, from ice cream, soups, smoothies, and more! We haven't found a task it can't handle.
If you enjoyed this Strawberry Watermelon Juice Recipe let us know by sharing on social media with #knowyourproduce
Be sure to pin this Strawberry Watermelon Juice if you enjoyed it and also check us out on Pinterest! 
Strawberry Watermelon Juice Recipe | Raw Juice
Watermelon Strawberry Juice Recipe | Raw Juice Author: Courtney
Ingredients
2

Cups

Watermelon

Juice of 1 Lemon

2

cups

frozen Strawberries
Instructions
Liquify in a blender. You can strain through a nut milk bag if you prefer a juice without pulp.