Today we're sharing our Tribest Solostar 4 Juicer Review thanks to Tribest sending us one to test out.
this post contains affiliate links – if you make a purchase through the link we earn a commission, thanks for supporting our site!
They make several different juicers, but this is their newest juicer. The hunt for the perfect juicer can be a tough one. You may read many juicer reviews before you find the perfect one. Sometimes you buy what you think will be the best and you hate it. We've had that happen before and it's not fun. There's tons of different options when it comes to juicers.
The Tribest Solostar 4 Juicer is great for our family and maybe even yours too!
What we like about the Solostar 4:
BPA Free as well as BPS Free
Doesn't break the bank
Neutral Color, white
Easy to Use
Masticating

Low RPM (prevents heat and oxidation)

15 Year warranty
Easy to clean
Quiet
Size, pretty compact.
I was able to use and clean the unit in about 30 minutes. I cleaned it before juicing and then cleaned it RIGHT after. We highly encourage you to clean any juicer right away rather than let it sit. If you let it sit you risk the pulp sticking to the screens, which can be extremely hard to clean once it dries.

When you turn on the Tribest Solostar 4 Juicer it's super quiet and it's not noisy until it's chewing up your produce. When you put carrots into the juicer you will hear it make a chewing sound, our toddler really loved to hear the juicer "eating". It doesn't take up too much space and it's easy to move around since it's lightweight. One of the most important features is that it's a masticating slow juicer. It has a dual stage extraction and a larger auger which allows the larger space to create maximum yields. The low RPM (57) prevents heat and oxidation which you'd typically get with a centrifugal juicer. We experienced no issues with jamming, clogging, or overheating.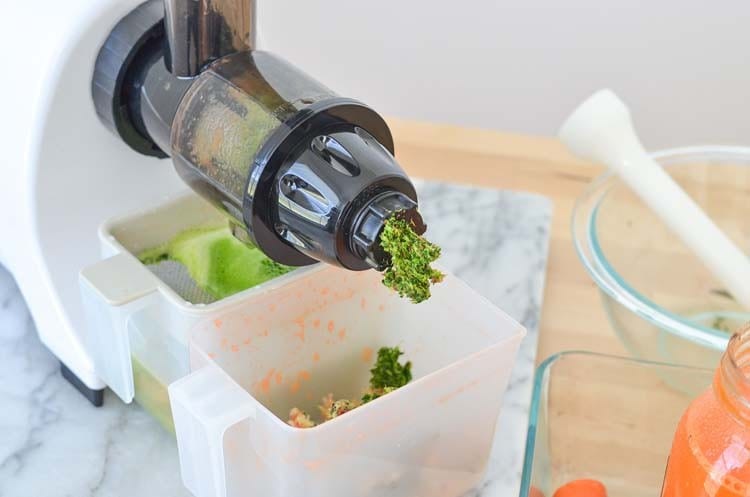 Pricing:
Purchase the best juicer for only $299.95
We can't wait to share a ton of recipes using our Tribest Solostar 4 Juicer.
Here's a few we've already made:
Kale and Kiwi Refresher | Green Juice Recipes
Best Orange Juice Recipe, Orange You Glad it's Carrot?
Fruits and Veggies "Carrot" Ice Pops