Like all berries, blueberries are best to purchase organic. By purchasing organic you ensure you're less pesticides, plus a higher antioxidant punch. Packed with anti-cancer benefits, vitamin C, maganese, copper, vitamin K and fiber. Blueberries are a great snack for the whole family. Our toddler likes to enjoy them fresh and frozen.
FUN FACT: Blueberries aren't blue, they're a shade of purple.
WHEN IS BLUEBERRY SEASON You can see plants bearing fruit anywhere from May – September in the North East.
HOW LONG DOES IT TAKE TO GROW BLUEBERRIES Once a blueberry bush reaches full maturity it will produce that season, but to get to that point it can take 2-3 years.
HOW TO STORE BLUEBERRIES We suggest only purchasing blueberries when you'll be consuming them within 1-2 days.
HOW TO CHOOSE BLUEBERRIES Pick blueberries that have no signs of mold or shriveling. An even blue/purple coloring without much pink, white or green.
CAN YOU FREEZE BLUEBERRIES Absolutely! You can even purchase organic and already frozen blueberries for much less than fresh, as is true for all berries. They freeze extremely well. Follow our tutorial on how to freeze strawberries.
HOW TO USE BLUEBERRIES There's so many ways to enjoy blueberries. They can be enjoy on their own as a snack, in desserts or even with your dinner. Below are some excellent recipes using blueberries.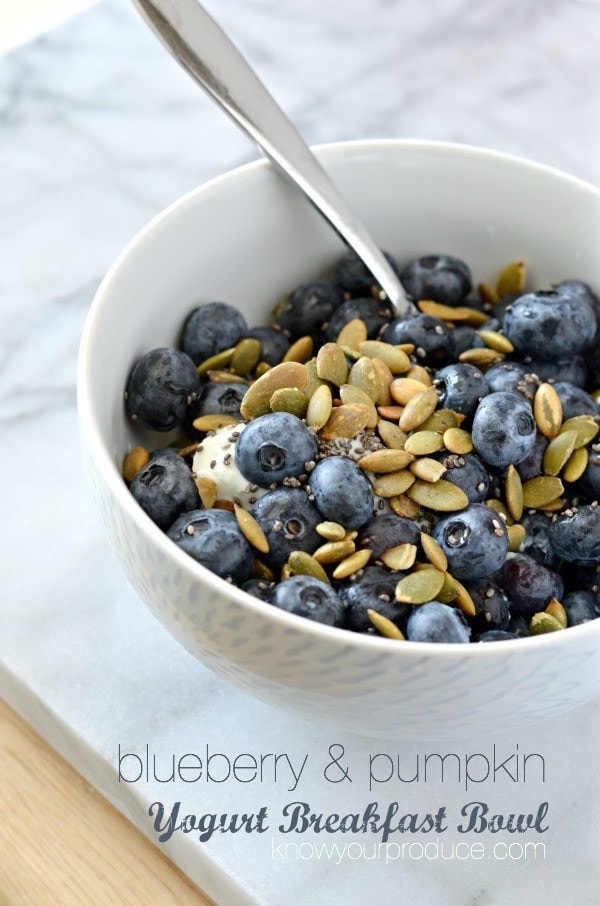 Greek Yogurt Breakfast Bowl with Blueberries // Know Your Produce
Strawberry Blueberry Frozen Yogurt Bark // Super Healthy Kids
Fresh Blueberry Compote // Courtney's Sweets
Blueberry Lemon Cheesecake Overnight Oats // With Salt & Wit
Blueberry Nice Cream // Know Your Produce
PB&J Popsicles // Produce For Kids
Blueberry Gluten Free Pancakes with Quinoa and Lemon // Food Faith Fitness
No Bake Blueberry Custard Pie Vegan + Gluten Free // Fannetastic Food
Semi Homemade Blueberry Yogurt Recipe // Courtney's Sweets
Red White and Blueberry Yogurt Popsicles // The View From Great Island
Healthy Flourless Blueberry Breakfast Cake // The Big Man's World
Corn Blueberry Salad // Nutmeg Nanny
Follow Know Your Produce's board Blueberries Recipes on Pinterest.