Make these Sweet Potato and Kohlrabi Fries with Spicy Roasted Red Pepper Mayo they will be gone within minutes!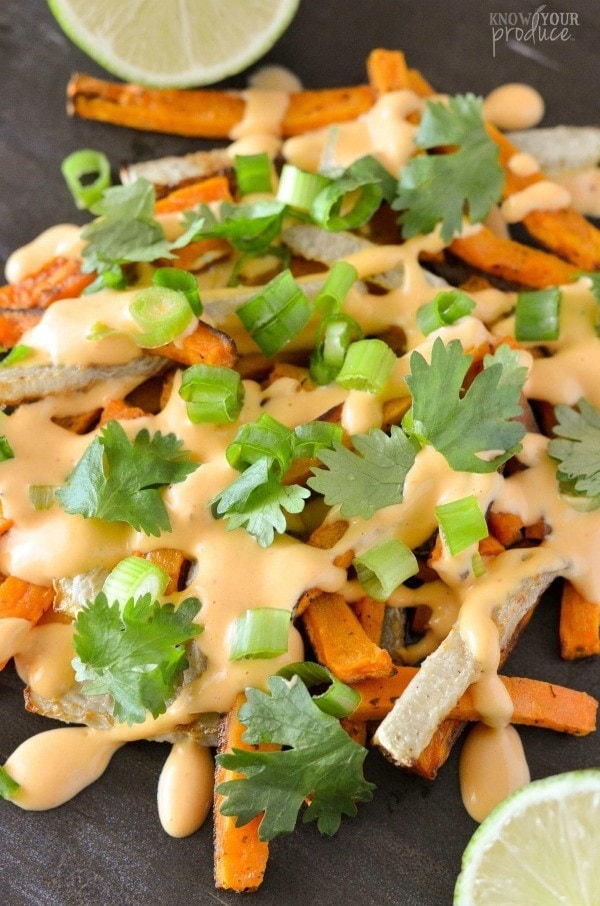 this post contains affiliate links – if you make a purchase through the link we earn a commission, thanks for supporting our site!
Have you heard of Kohlrabi?  We love to grill it, bake it or even eat it raw in salads/slaws.  It's crunchy and the taste resembles broccoli stems.  Once cooked it becomes a little sweet and so addicting!  We've been buying tons of it when we go to our local farmers market on the weekend.  I'm picky when it comes to sweet potatoes.  I love sweet potatoes baked with my spicy red roasted pepper mayo or mashed with beets.  I have never liked sweet potato fries, until now.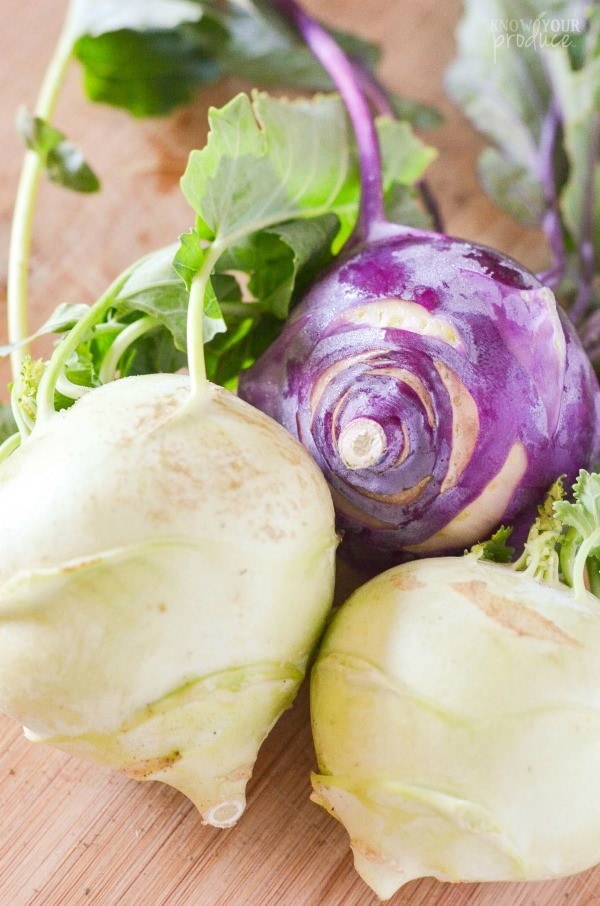 I'll never eat fries with ketchup again at home.. I'll blame the cilantro, fresh squeezed lime, scallions and of course our Spicy Roasted Reed Pepper Mayo.  I love using this mayo on portobello mushroom burgers too, definitely not just for fries!  The magic is all from using freshly roasted red pepper.  If you don't know how to roast peppers check out our tutorial on how to roast peppers.  It's beyond easy to do and much cheaper than buying prepared, plus it's super fresh!!  We even use roasted red peppers in our macaroni and cheese, ridiculously good.
These fries are loaded with so much goodness.  You can either fry or bake your french fries, but we prefer to bake them.  We like to lightly coat them in a little coconut oil and then bake.  The most important thing when you're making fries is to keep them all the same shape and size.  If you don't cut them all the same size you'll end up with some over cooked and some under cooked, not such good eats. First things first, make sure you have a designated cutting board for fruits, vegetables, poultry, meat and fish. It's always good to use a quality knife when working with produce, or anything that needs slicing and dicing for that matter.
Sweet Potato and Kohlrabi Fries with Spicy Roasted Red Pepper Mayo
Ingredients
1

Sweet Potato

2

Kohlrabi

1

Tablespoon

Coconut Oil

Spicy Roasted Red Pepper Mayo

1

Lime

Fresh Cilantro

chopped

Fresh Scallions

sliced

Salt and Pepper to taste
Instructions
Preheat oven to 425

Peel sweet potato and kohlrabi and slice into fries.

Coat the sweet potato and kohlrabi in coconut oil.

Place sweet potato and kohlrabi onto a cookie sheet and bake for 15-20 minutes and turning once half way through.

Sprinkle fries with salt once cooked and drizzle with roasted red pepper mayo.

Squeeze a bit of lime and garnish with cilantro and scallions
This recipe can be made in any blender, but we find that we get the best results with our Vitamix or Blendtec high speed blenders.
Spicy Roasted Red Pepper Mayo
Ingredients
1

cup

Just Mayo

vegan, but you're free to use whatever mayo you'd like!

1

Roasted Red Pepper

skin, stem and seeds removed

1/2

Teaspoon

Crushed Red Pepper Flakes
Instructions
Blend ingredients until combine in blender or food processor.

Place into a container and refrigerate.

Use within one week.
This mayo has a kick, so if you like a little less heat just reduce the amount of crushed red pepper flakes.