How to Roast Red Peppers, Quick and Simple Recipe that you can use for sandwiches, salads and more!
this post contains affiliate links – if you make a purchase through the link we earn a commission, thanks for supporting our site!
Here's an easy way to  make roasted peppers.  Tender, sweet, and delicious.  Roasted peppers are perfect for sandwiches, in salads, with pasta, and even on their own.  I love making a huge tray of them and keeping them in the refrigerator for the week.  Chris loves them with his lunch so I make them pretty often.  When buying red peppers or any pepper for that matter, we always purchase organic!  Most if not all our produce we buy is organic.  If we can't find it organic, we go for local!  Roasting is the same for any color pepper, not just red. First things first, make sure you have a designated cutting board for fruits, vegetables, poultry, meat and fish.
To roast peppers it's pretty simple, but first preheat your oven to 400.  Now you need to wash and cut your peppers.  I personally like to hold on to the stem and cut down with my knife 3 times.  I leave the stem and seeds intact – no mess!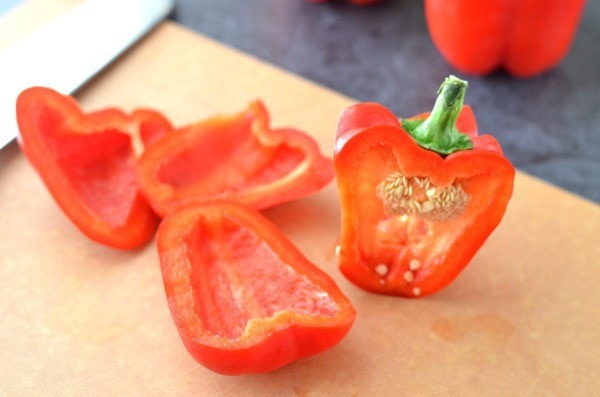 Another way is to cut in half and then remove the stem – this way is a little messy and more time consuming.
Once you have your peppers all cut up and ready line a cookie sheet with tin foil and arrange them skin side up.  (Look it's a pepper heart!)
Now you can do one of two things.. you can either evenly spread oil all over the peppers using your hands, or you can do what I do!  I purchased a Misto Olive Oil Sprayer
 and it evenly coats the peppers with REAL olive oil that I put in it.
You'll then place your cookie sheet into the oven for 30-40 minutes.  I take them out as soon as I see more than one pepper is a little charred.  I like them to be a little tender and not completely cooked down.
When I give them to my daughter I peel off the skin, however for us we just eat them as is.
Did you enjoy this post? Click here to pin it for later.  Also check out all of our other favorite Pepper recipes and posts on Pinterest!