Every oil has a high smoke point and a low smoke point. Always use the best oil for cooking by knowing the smoke point of oils.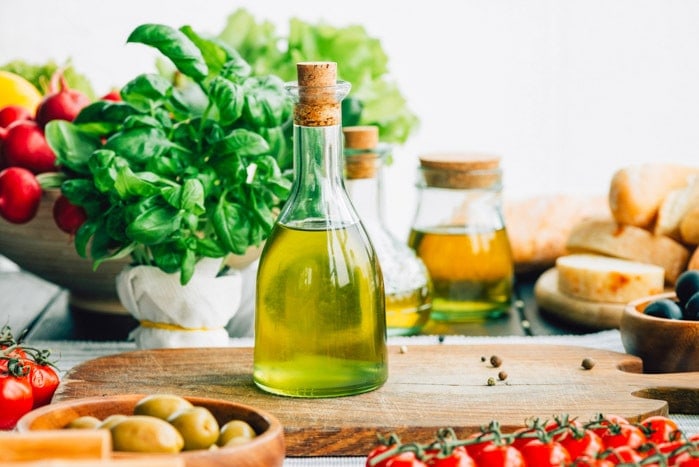 We all have at least one type of oil in our home, if not 10, am I right? Well, there's a reason to own more than one oil and that is because all oils have different uses and flavors, but most importantly, they have different smoke points.
Oil is excellent for roasting, baking, searing, deep frying, sautéing, and making marinades. You have to be careful in choosing which oil for each cooking method. All oils have a different smoke point. When seasoning your cast iron pan you want the high smoke point cooking oil. We use avocado oil with the highest smoke point for our cast iron cookware.
What is a smoke point?
Ever heat butter or oil so hot that it starts smoking? Season your cast iron with extra virgin olive oil, then when you go to cook, it smokes up the entire house.
Once the oil or fat reaches a specific temperature it starts to smoke. So, for example, Algae oil has a 485 degrees F smoke point. Once the oil reaches that temperature it will start to smoke.
Most refined oils (filtered, heated at high temperatures) will have a higher smoke point, whereas unrefined oils will have low smoke points and shouldn't be heated. This is why some will mix oil with butter in a pan before searing something. This allows the lower smoke point oil/fat to reach a higher than-usual smoke point.
Another reason you don't want to heat your low smoke point oils is you damage all of the benefits of the oil. It will cause the oil to degrade and not be as healthy as if you used it to a lower smoke point as intended. Oils begin to break down when they reach their smoke point.
Unrefined oils will have a lower smoke point while refined oils have a higher smoke point with a neutral flavor. Examples of unrefined oils are walnut and toasted sesame oils, which are perfect for finishing a recipe, not cooking with it. Refined oils have a neutral taste. Refining the oil removes the fatty acids and impurities, which make the oil smoke before refining.
smoke point of oils in fahrenheit
here is a list of commonly used oils.
avocado oil smoke point 520
safflower oil 500
rice bran oil smoke point 490
algae oil smoke point 485
clarified butter smoke point (ghee) 485
soybean oil smoke point 450
peanut oil smoke point 450
sunflower oil smoke point 440
corn oil smoke point 440
olive oil smoke point 410
vegetable oil smoke point 400
canola oil smoke point 400
grapeseed oil smoke point 392
lard smoke point 370
vegetable shortening smoke point 360
extra virgin olive oil smoke point 350
coconut oil smoke point 350
butter smoke point 350
sesame oil smoke point(refined) 350
It's not uncommon to for most kitchens to have just extra virgin olive oil as their all-purpose oil, it's a great oil, but it's definitely not all-purpose, as it has a lower smoke point than other oils. A virgin olive oil smoke point is higher than extra virgin olive oil smoke point.
Previously we have used coconut oil for baking and roasting, but have found many mixed opinions on using this for cooking. Coconut oil is said to have a 350°F smoke point, not ideal for roasting veggies at 425°F.
When you overheat an oil you're destroying many of the benefits of that oil. This is why it's important to know the smoke points for the oil you plan to use before cooking.
Here's a handy oil smoke point chart you can save for later or even print for your kitchen.