Learn how to grow potatoes in the spring or fall, how to grow potatoes in containers or potato grow bags and how to harvest potatoes too!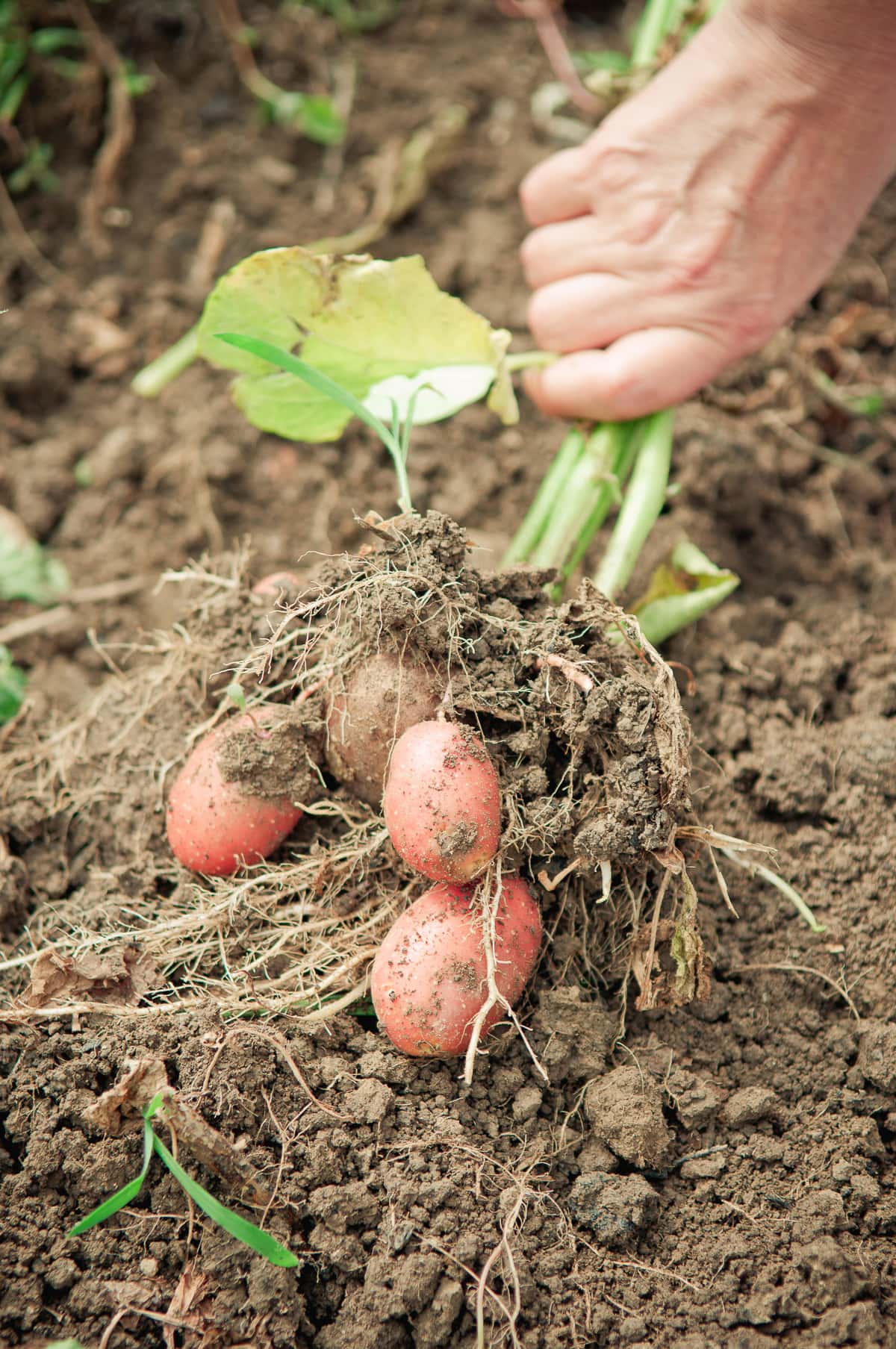 How to Grow Potatoes
Potatoes are a great addition to any garden and for a good reason. They are an incredibly versatile vegetable and a favorite food among many families. There are several different ways of incorporating plants into your garden.
However, before you get started, some basic facts are important to learn before you give it a go. Following is a quick guide on how to grow potatoes that will help you get started no matter which method you wish to use to start growing delicious potatoes right at home.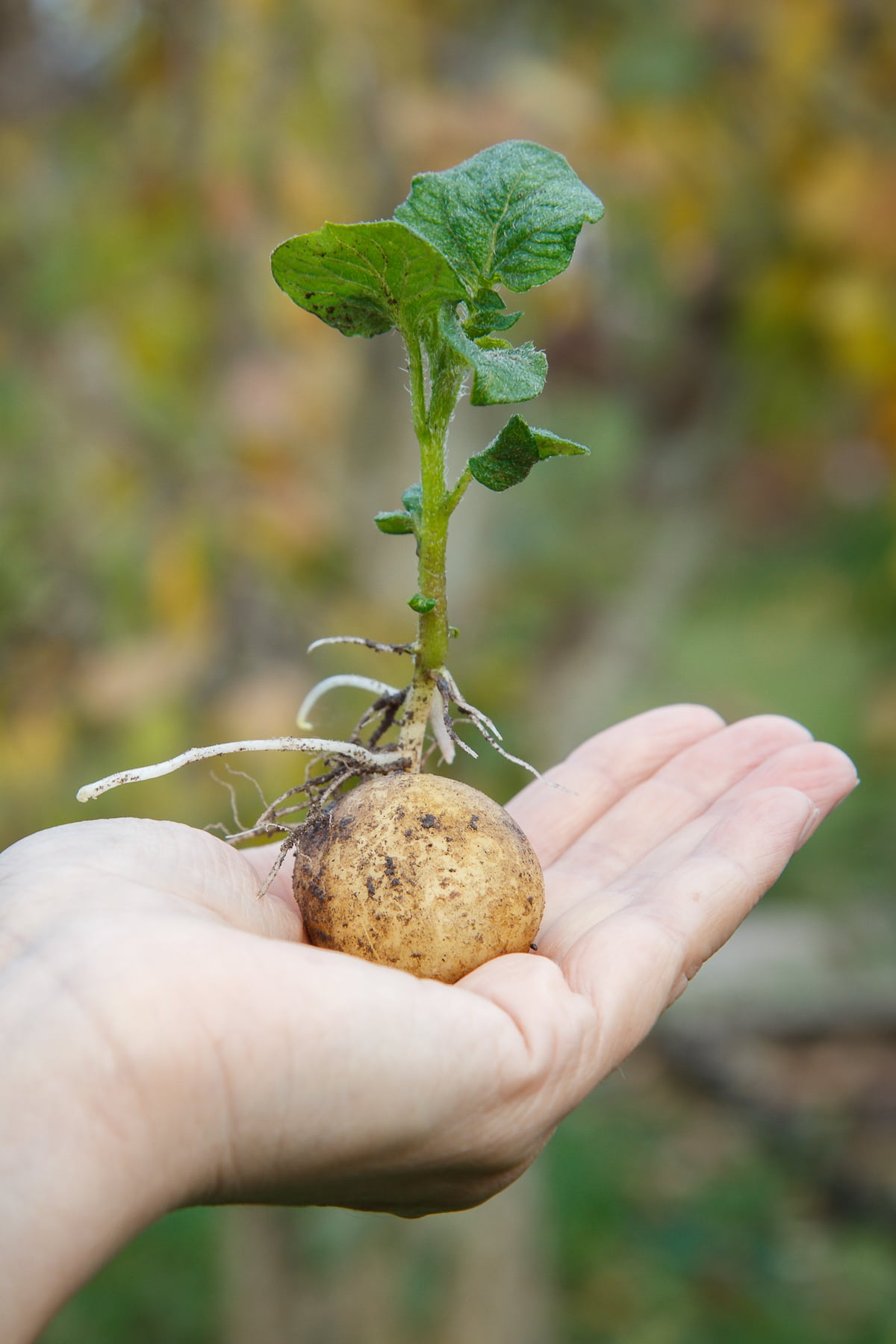 How Long Does It Take To Grow Potatoes?
Typically speaking, potatoes will take around three to four months or 80 to 110 days to grow once they have been planted. How long it takes for your potato to grow will depend on what type of potato it is.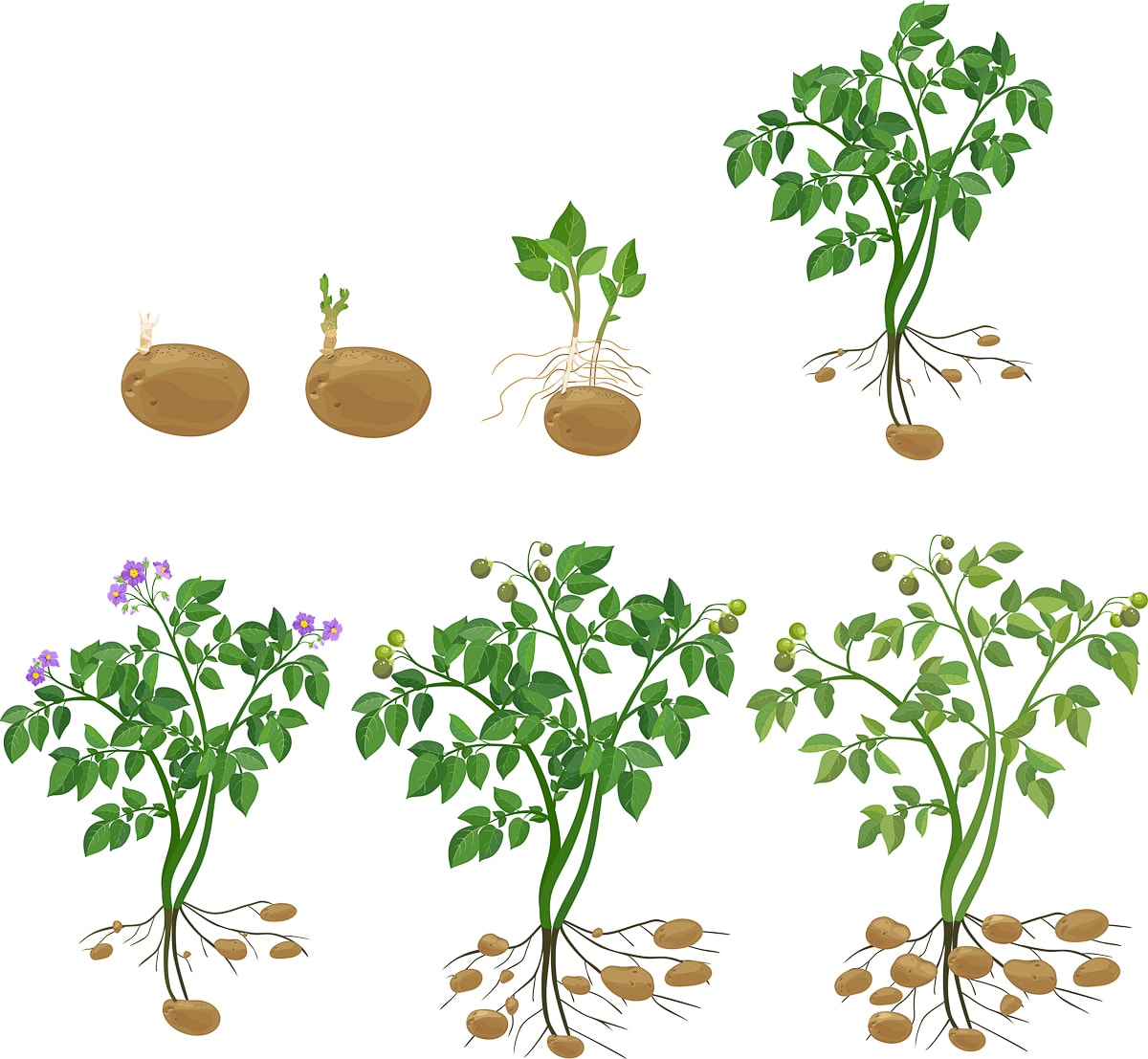 What Month Do You Plant Potatoes
Potatoes should be planted in early spring, typically late March or early April. Another way to think about it is to plant your potatoes two or three weeks before your last frost date.
Can you plant potatoes in the fall?
It will depend on your area, we always recommend looking at the Almanac calendar for planting in your area.
Here in 7a, we can plant sweet potatoes for a second harvest time for a few days up until June 28th and regular potatoes for a few days up until August 12.
How To Plant Potatoes
Potatoes and learning how to grow potatoes are great for any gardener. There are many different ways to grow potatoes, so it is important to note the differences between the methods.
Can you plant a whole potato?
If you're wondering "do you have to cut potatoes before planting?" the answer is no, if your potatoes are sprouted. You can take a sprouted potato and just place it right into the ground.
How To Grow Potatoes In A Bag
Growing potatoes in a bag might seem odd at first, but it is actually a great and effective way to grow the plants. To start, fill a potato bag (an 8-liter bag) with compost up until an inch below the rim of the bag.
From there, plant a single chitted potato about five inches into the compost with the sprouts pointing upwards. Chitting a potato means storing the potato somewhere where it can grow a few sprouts before planting it.
Now, all you have to do is store the bag in a bright and dry area and water them regularly. You should also consider feeding the potatoes with fertilizer.
What's the best fertilizer for potatoes?
Espoma Garden Tone is our go-to for most garden vegetables and fruits. We also use Espoma Bone Meal. We also like the Dr. Earth line as well.
How To Grow Potatoes In A Container
There are a few different aspects to growing potatoes in a container. The first thing to note is that you will need to use a larger container than you would for other plants. Further, when choosing soil, I recommend using a lightweight mix like a potting soil mix.
Your potatoes will need to be watered well and watered consistently. Further, they need full sun but cannot take a lot of heat. You will need to ensure that the container is somewhere sunny but not too hot.
How To Grow Potatoes In A Bucket
Growing potatoes in a bucket are similar to growing them in any other container. You will want to use a large bucket and follow the steps listed above. Use a lightweight soil mix and give your potatoes full sun without getting them too hot.
How To Grow Potatoes From Potatoes (Using The Eye)
Growing potatoes from scraps are super easy to do. All you have to do to get started is take a chunk of the dimpled part of the potato and let it dry overnight. From there, take the potato chunk and plant it eye-up into your soil to grow.
Then, nurture the plant as you would with any other method, watering it and giving it full sunlight. After a few months, you will have new potato plants that can be harvested and enjoyed.
How To Grow Sweet Potatoes
Growing sweet potatoes is an excellent way to make yourself a continuous source of this wonderful plant. Unlike other plants, you will not need seeds to get started but rather pieces of another sweet potato called slips.
To get slips, cut a sweet potato into halves and suspend each half over a cup of water with the cut part submerged and the uncut part kept dry. You can use toothpicks to prop the slip on the cut to keep the uncut half nice and dry.
Let them soak for about two weeks, changing the water once a day or when it gets cloudy. After two weeks, you will start to notice some sprouts coming up from the sweet potato, which can be gently twisted off of the vegetable.
With the sprouts, do the same soaking method you did with the halves for a few days until you notice roots forming. From there, the slips can be planted into lightweight soil in holes four inches deep and three inches wide.
You will want to plant them so that the leaves are exposed, and the bottom half is in the soul. Remember that slips are fragile, so patience and care are a must.
Make sure they get full sun and are watered regularly, and after a few months, you will have delightful sweet potato plants.
Do potatoes need full sun?
Potatoes will do best in full sun. Aim for at least 6 hours of full sun for your potato plants.
When should I stop watering my potato plant?
You should stop watering your potato plant when you see the vines starting to dry out.
How many potatoes do you get per plant?
Depending on the type of potatoes you've planted it can vary. Typical yields for potatoes are 5-6 large potatoes per plant with a few smaller size potatoes.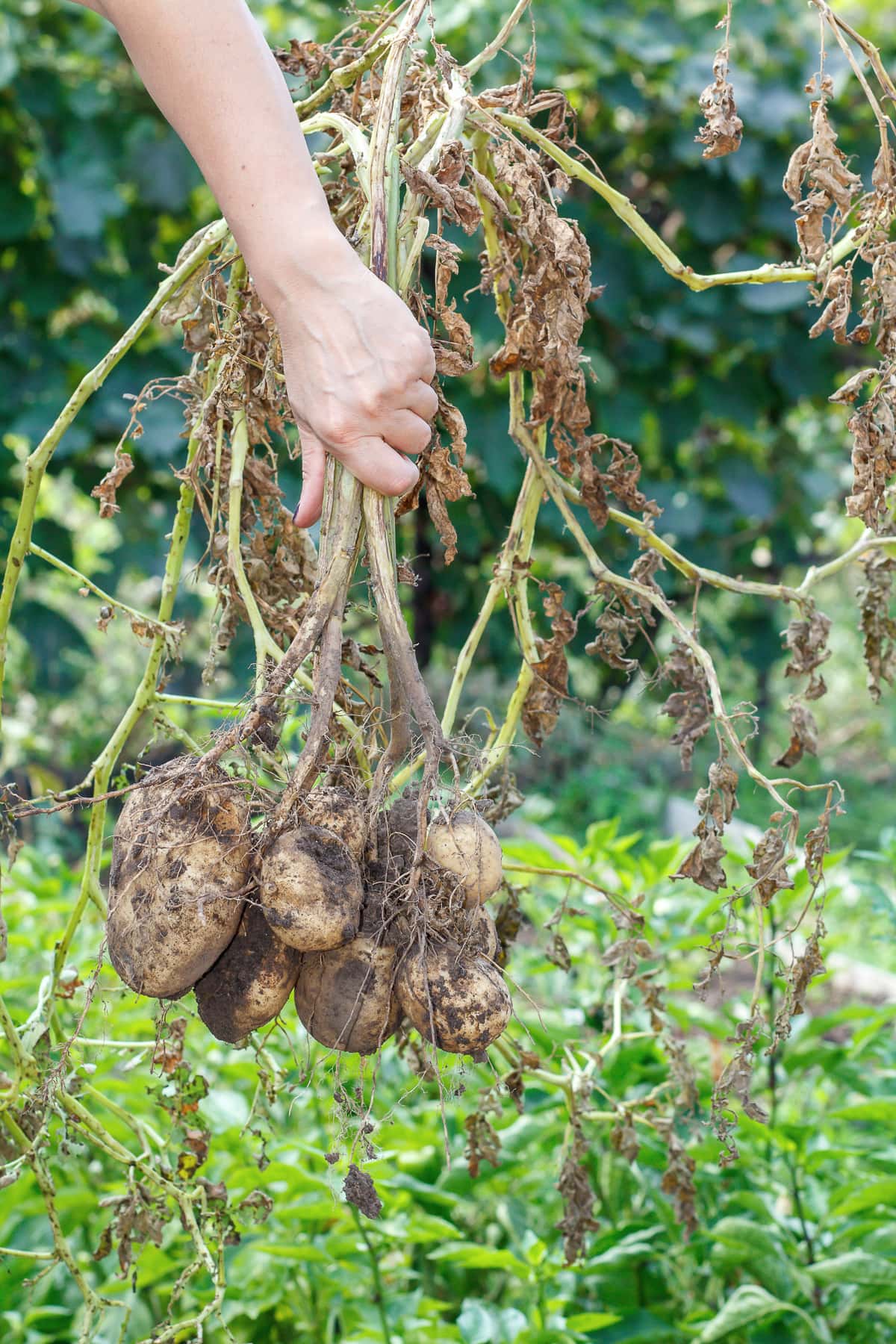 When to harvest potatoes
How do you know when it's time to harvest potatoes? For full-size potatoes, you'll start to see the tops of the vines dying. Once the tips of the vines are dry and browning it means it's time to harvest potatoes. For new potatoes, you can try harvesting once you start to see the potato plant has started to flower.
How to harvest potatoes
Wait for a dry day to harvest potatoes so the soil isn't too heavy. When you're ready to harvest you should carefully dig through the soil to get the potatoes. Using sharp objects can puncture or bruise the potatoes.
While searching for the potatoes in the ground you can feel where they end and then go a few inches out with a shovel and dig. If you're using a container or bag you can dump it into a wheel barrel or tarp and sort the potatoes from the dirt.
How to cure potatoes
Once you've dug up your potatoes you need to let them cure. Curing allows them to be stored longer. To cure potatoes you'll want to store them at a temperature between 45-60 degrees F for 2 weeks. The humidity should also be high.
Do not wash the potatoes if you're going to be storing them. You can brush any loose dirt off, but it's best to leave them be and just cure them for storage. You can wash if you're using them right away.