Cucumbers make a great snack. We always say when you're eating the skin, buy organic! We tend to always buy organic even if we're not eating the skin. The skin on a cucumber is rich in fiber!
FUN FACT: 1/2 cup of sliced cucumbers contains 8 calories
WHEN IS CUCUMBER SEASON Here in Jersey, we'll see Cucumbers from late June to early September.
HOW LONG DOES IT TAKE TO GROW CUCUMBERS It can take about 50-80 days to reach harvest stage for Cucumbers.
HOW TO STORE CUCUMBERS Cucumbers are actually meant to be stored at room temperature. However, many people like to put them into the refrigerator. If you're keeping them cold, we suggest 3 days. Have you ever cut into a cucumber from the fridge and it looks rotten inside, but perfect on the outside? This is considered chilling injuries "water-soaked areas".
HOW TO CHOOSE CUCUMBERS Choose a cucumber that is firm, no wrinkles or spongy spots.
CAN YOU FREEZE CUCUMBERS Yes, you can! Due to their high water contain it's recommended to brine before freezing. If you're freezing without brining we recommend using for infused waters after defrosting.
HOW TO USE CUCUMBERS There's so many ways to enjoy cucumbers! They can be enjoy on their own as a snack, in with lunch or even with your dinner. Below are some excellent recipes using cucumbers.
Easy Vegetable Platter for Entertaining // Know Your Produce
Chicken Pita // Courtney's Sweets
Wasabi Cucumber Avocado Dressing with Spiralized Cucumber Salad // Peas & Crayons
Creamy Cucumber Salad with Fresh Herbs // The Kitchen is My Playground
Cucumber Noodle Tzatziki Salad // Flavor the Moments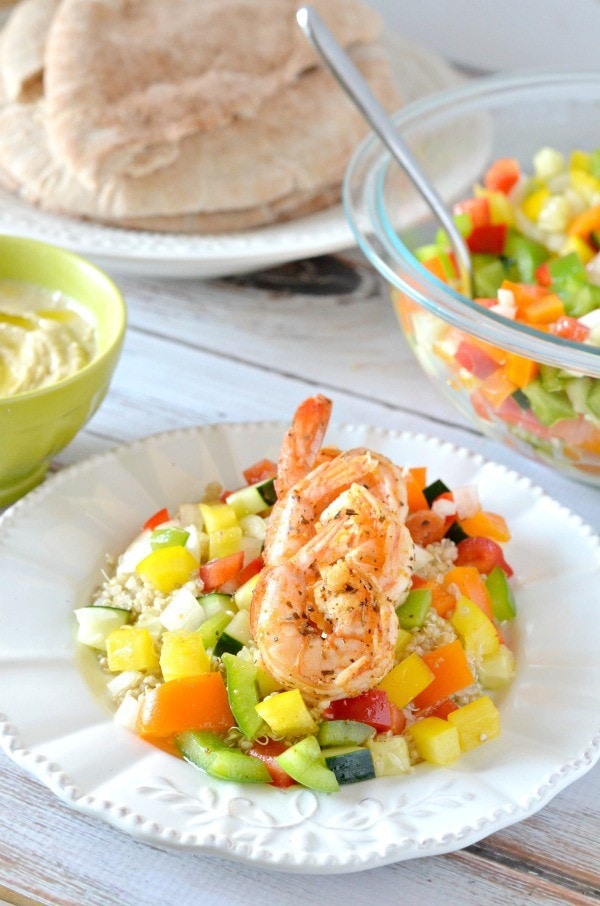 Shrimp with Israeli Pepper Salad // Know Your Produce
Avocado Tomato Cucumber Salad // Courtney's Sweets
Zesty Cucumber Salad with Pine Nuts // The Roasted Root
Marinated Grilled Chicken with Cucumber Watermelon Salsa // Iowa Girl Eats
Sriracha Refrigerator Pickles // From Valerie's Kitchen
Cucumber Tomato Salad // Ciao Florentina
Israeli Turkey Meatballs with Israeli Salad // Know Your Produce
Sesame Ginger Miso Cucumber Salad // Snixy Kitchen
Shrimp and Veggie Summer Rolls // Karen's Kitchen Stories
Lentil Coconut Curry with Cashew Cilantro Pesto Cucumber Noodles // Food Faith Fitness
Find even more cucumber recipes on our cucumber pinterest board!