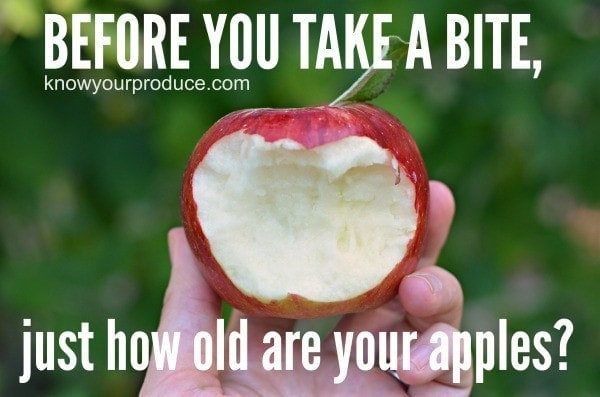 How fresh are your apples? They could be over a year old.
While apple picking for the first time of the season, Chris told me something. "Some produce departments sell apples that are over a year old."
You see, to get fresh apples yearly isn't that easy. So farmers found a way to sell apples year round.
Having a husband who manages a produce department has it's perks, now I know just how old my apples really are! My first question to Chris was, HOW?
He explained that sometimes apples are treated with chemicals, waxes, and stored for months to a year in a cold room designed just for their storage.
My heart sunk, but I buy organic apples at Whole Foods! They're $2.69 a pound!
Unfortunately even if it's organic they can still use "organic" methods to slow down the process. Using approved non-sythentic fungicides along with a controlled cold storage system. These methods will achieve the same effect and allow them to store the apples for a long period of time.
What about all those benefits in apples?
Apples are full of dietary fiber and even polyphenols, which are antixoidants that can help fight cancer, aging, heart disease and help with fatigued muscles.
Nutrients deplete, and you can bet your apples have little to no antioxidants remaining after such a long storage. (This rings true for almost all produce, the fresher the better!)
We went to a local Farm, Terhune Orchards. Terhune Orchards is said to be low spray, while not Organic, I can rest assured that I know the farm, and that our apples are local & FRESH! In fact, we'll be heading back to Terhune Orchards to buy about 10 more pounds October when the Fuji Apples are ready to be picked. The best time to pick apples is from August to September. Buying local from your farmer, you'll definitely have fresh apples, not year old. Just make sure you're picking them from the tree.
Gary and Pam Mount bought Terhune Orchards in 1975. Terhune Orchards is located in Princeton, New Jersey. In 2010 they built a new barn that would house thousands of apples. These apples are stored in a room with controlled atmosphere, which allows the apples to breathe slowly, which then slows their ripening. It's not just big companies that do this, even small farms. Instead of shopping inside the market, always pick from the tree.
FACT: It's NOT just apples, other produce is kept for longer than you'd think as well. So before you bite into that apple, think.. just how old are our apples?