We're sharing our Easy Macaroni Salad Recipe today! We're also sharing our new favorite cutting board from cuttingboard.com which you'll see in each photo, isn't it beautiful?  Cutting boards for me aren't just for cutting, but also for photography.  I just love a new cutting board!  One side for photography and the other for chopping!
Our little one couldn't wait to eat the macaroni salad and I gave her a little bowl without the dressing on it.  She actually prefers her macaroni salad undressed!  Each chop I made she was patiently waiting for her bowl and munch on little pieces of peppers!  Thankfully she loves to eat a colorful diet and devours peppers as quick as some could chow down a cookie.  This is an easy recipe to whip up for parties and we love enjoying it year round, especially during the summer when local produce is in season.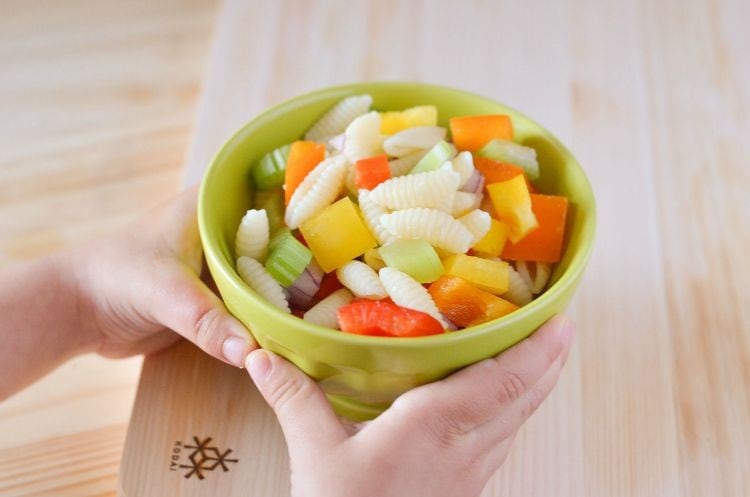 Whenever I need a new cutting board for meal prep or photography I look to Cuttingboard.com.  They're a genuine small business that not only takes pride ensuring that customers are happy, but they also carry the largest selection of John Boos cutting boards.  I just love my John Boos and it's one of my favorite cutting boards I own!  Cuttingboard.com also carries butcher blocks!   All of their products are 100% environmentally friendly and have been harvested from renewable resources.  
I have been needing a smaller cutting board for little jobs like this easy macaroni salad and the Hinoki is the perfect size!  
CuttingBoard.com features the web's best selection of curated cutting boards and butcher blocks. Owners, Mike & Grant, have personally selected and chosen their products after handling and seeing each piece with their own eyes. Many of the their products are sourced from independent artisans and woodworkers that only make limited runs of each product. In addition, Cuttingboard.com also carries high quality knives and kitchen accessories that will accentuate the kitchen of any home chef.
CuttingBoard.com is proud to source products that are certified sustainable, renewable or reclaimed. They believe in a commitment to quality and environmental stewardship, so all of the products in their store adhere to these principles. They are also a member of 1% For the Planet and donate a portion of each sale to charity toward environmental causes.
Easy Macaroni Salad Recipe
Ingredients
1⁄2 lb pasta, cooked and drained
5 celery stalks, chopped
3 peppers (any color), chopped
1 small red onion, chopped
½ cup mayonnaise
2 tablespoons vinegar
½ teaspoon mustard
½ teaspoon sugar
salt and pepper to taste
Instructions
In a large bowl combine all ingredients and refrigerate.
Serve cold and remember to keep it cool if let out.
We will be giving away 2 boards, each with some oil to 2 winners!
*thank you to CuttingBoard.com for sponsoring this giveaway and recipe.
If you enjoyed this recipe, be sure to check out all of our other healthy, delicious and homemade recipes and posts on Pinterest!