We're sharing our Easy Macaroni Salad Recipe today! This recipe is filled with tons of veggies. We love using a variety of peppers. All of the colors really make this recipe even more exciting for little ones. Kids can see orange, green, yellow and even purple in this macaroni salad recipe.
Our little one couldn't wait to eat the macaroni salad, and I gave her a little bowl without the dressing on it.  She prefers her macaroni salad undressed! Each chop I made she was patiently waiting for her bowl and munch on little pieces of peppers!
Thankfully she loves to eat a colorful diet and devours peppers as quick as some could chow down a cookie.  This is an easy recipe to whip up for parties, and we love enjoying it year round, especially during the summer when local produce is in season.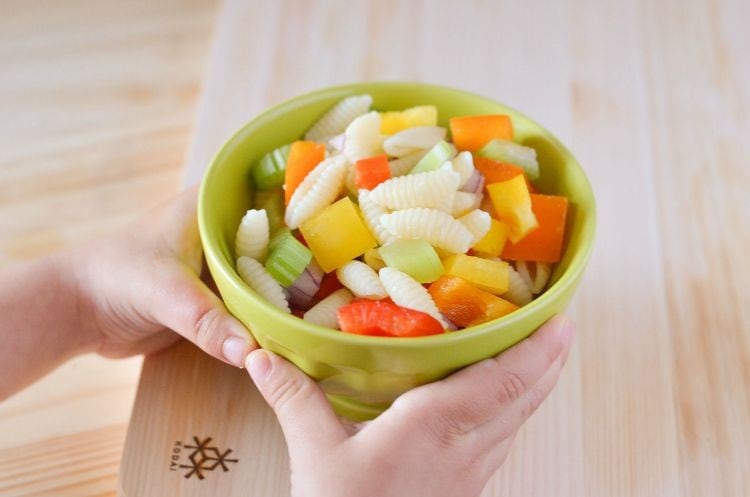 Ways to add in protein:
add in chopped eggs
add in chopped baked chicken breast
add in fork mashed tuna
These are great ways to get some protein into your macaroni salad recipe. We like to enjoy it with or without protein. If you do add protein, it makes it a complete meal. Some may prefer to use more pasta in this recipe since we have a pretty good amount of veggies.
We prefer to put a ton of veggies over the pasta this way we're still getting tons of vitamins and nutrients and not just a ton of carbs.
Don't get me wrong, we love pasta, but it's better to mix your pasta with something substantial too.
You can chop the veggies up as small or as big as you like. Just try to ensure they're all the same size so someone isn't getting a huge bite of onion or a huge bite of pepper out of nowhere.
This recipe is full of color, but we did leave out green pepper. You can absolutely add in green pepper if you'd like, but just remember that green peppers are a bit more bitter than colored peppers as they're picked before they can ripen into orange, yellow, or red.
Easy Macaroni Salad Recipe
Ingredients
1

⁄2 lb pasta

cooked and drained

5

celery stalks

chopped

3

peppers

any color, chopped

1

small red onion

chopped

½

cup

mayonnaise

2

tablespoons

vinegar

½

teaspoon

mustard

½

teaspoon

sugar

salt and pepper to taste
Instructions
In a large bowl combine all ingredients and refrigerate.

Serve cold and remember to keep it cool if let out.
If you enjoyed this recipe, be sure to check out all of our other healthy, delicious and homemade recipes and posts on Pinterest!