Learn all about apples! From the benefits of apples, when are apples in season, how to pick apples, even delicious apple recipes.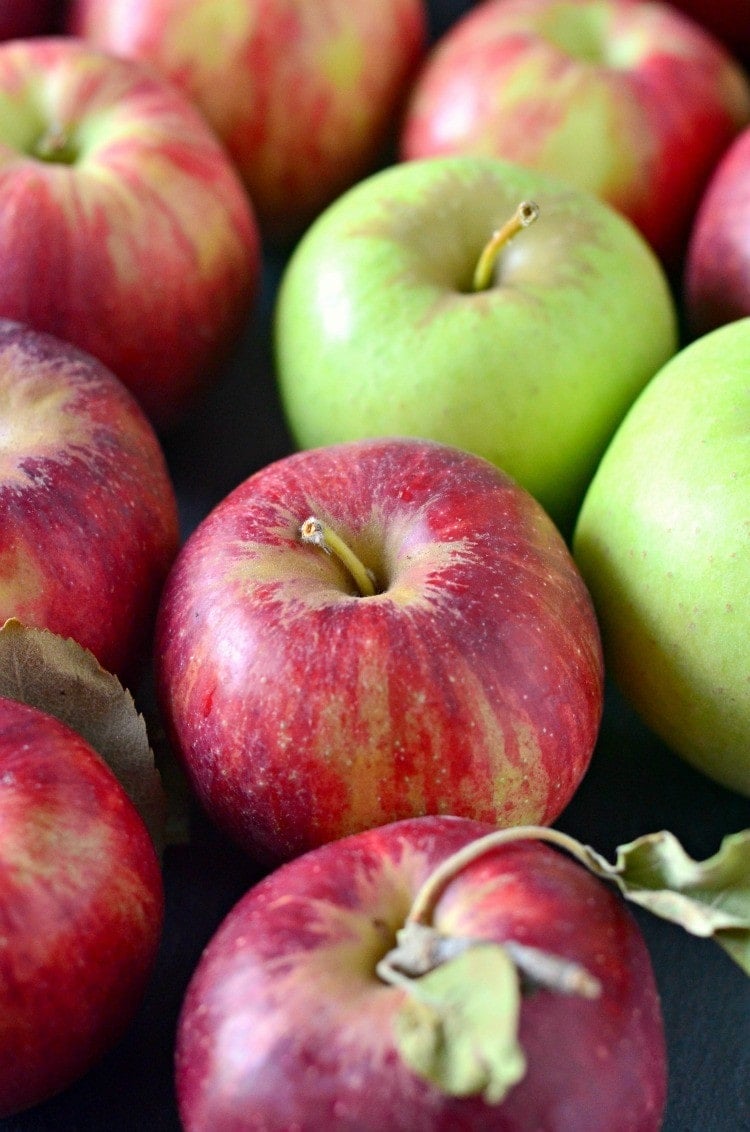 HOW MANY TYPES OF APPLES ARE THERE?
There are too many varieties of apples to count, or even list! Our favorite apples are Fuji, Gala, Pink Lady, Granny Smith, and Honeycrisp.
Other popular Apples are Red Delicious, McIntosh, and Golden Delicious! Apples TOP the list of produce contaminated with pesticides. Before we switched to only organic apples we enjoyed Jazz apples, they DO have organic available in select areas! There are so many things you can do with apples from baking, pureeing, frying, juicing, or even making into apple chips.
Apples are a great first food for babies too, as making baby food from apples is so quick & easy! If you can always leave the peel on your apples. When you peel your apples you lose out on all that fiber and antioxidants that you just "removed".
FACT: Apples are a great source of fiber -1 medium apple has 4.4 grams of dietary fiber. PLUS, they also have 195mg of Potassium!
WHEN IS APPLE SEASON?
Apple season is year-round for the grocery store thanks to the many varieties all over the world. For picking, Apple's peak season is September through November.
HOW TO STORE APPLES
Apples can be stored on the counter, or in the refrigerator. We prefer to enjoy our apples cold and keep them refrigerated. Apples ripen six to ten times faster at ROOM temperature.
HOW LONG DOES IT TAKE TO GROW AN APPLE TREE?
If you were to plant today you would see your first apples in 4-5 years!
HOW TO CHOOSE APPLES
Carefully look at each apple making sure there are no breaks in the skin (which can harbor bacteria) and no bruising. In short, you want an apple that's blemish-free.
CAN YOU FREEZE APPLES
We recommend washing, slicing, and individually freeze your apples on a cookie sheet or tray. Spray with a little lemon to prevent browning too! Add the frozen apples to a zip bag and freeze. You can also freeze them whole with the skin on. Just wash, dry, and remove the cores. The best uses for them would be cooked, like applesauce, cobbles, or pies.
BEST WAY TO ENJOY APPLES
Simply wash and enjoy or check try one of these delicious apple recipes below