All about Peaches, from how to pick peaches, how to eat peaches, how to store peaches, and more.
WHAT ARE PEACHES?
Peaches are a stone fruit that grows from a peach tree. They can be enjoyed raw, cooked, baked, or even grilled! When you get a ripe one off a peach tree they're extremely sweet, juicy, and flavorful!
WHAT DO PEACHES TASTE LIKE?
Juicy, sweet, sometimes sour, depending on the type of peach and the ripeness. We find that yellow peaches are more flavorful than white peaches. White peaches are milder in flavor but very sweet and have no sour notes.
WHAT TYPES OF PEACHES ARE THERE?
There are four types of peaches: yellow peaches, white peaches, donut peaches, and nectarines. Yes, surprisingly, nectarines are a type of peach! They have a genetic mutation that gives them smooth skin, unlike the fuzzy skin on peaches.
FREESTONE PEACHES VS CLINGSTONE PEACHES
We pick freestone peaches; they have an easy-to-remove pit and are perfect for fresh eating. Clingstone peaches have a pit that is harder to remove, hence cling, but they make up for that in the sweetness department as they are slightly sweeter than freestone peaches. They are ideal for canning and baking, but you can bake and can with either.
PEACH BENEFITS
Peaches contain Vitamin A, Vitamin C, Vitamin E, Vitamin K, Potassium, Niacin, Iron, Copper, Manganese, and even some fiber! They're also a good source of antioxidants.
WHEN ARE PEACHES IN SEASON?
Peaches are in season from early July through mid-September.
WHY DO PEACHES HAVE FUZZY SKIN?
The peach fuzz is a part of the fruit's natural defense mechanism. These tiny pieces protect the peach's thin skin from insects and harsh rain/water.
HOW LONG DOES IT TAKE TO GROW PEACHES?
If you buy a peach tree (you can get potted peach trees or bare-root peach trees) from the garden nursery, you should expect to harvest your first peaches 2-4 years after planting.
HOW TO SOFTEN PEACHES
Sometimes, peaches aren't super ripe when you get them. We find the best way to soften peaches is by allowing them to rest on the counter for 2-3 days.
HOW TO PICK PEACHES
If you're picking peaches off a peach tree, you want to gently grab the peach and see if it's ripe. You can easily twist and pull the peach off the tree if it is.
If you're purchasing peaches from the store, you should be able to feel if the peach is ripe. You want to avoid any peaches with any soft spots or bruising. The color should be an orange or red hue without green.
HOW TO STORE PEACHES
We recommend storing peaches on the counter. If they're ripe and you won't be able to enjoy them, we suggest placing them in the refrigerator, but for long-term storage, you can also freeze peaches.
HOW TO FREEZE PEACHES
To freeze peaches, line a sheet pan with parchment paper. Arrange the cut peaches on the prepared plates or sheet pan in a single layer. Freeze for a few hours, and then transfer the peaches to a freezer-safe container. Frozen peaches will keep for up to 8-10 months.
HOW TO ENJOY PEACHES
Our favorite way to cook peaches is our peach muffins recipe. You can also use peaches in smoothies like our banana peach smoothie! A few slices added to a salad, perfection!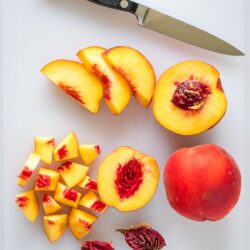 How to Eat a Peach
How to eat a peach, cut a peach easily to enjoy fresh as is or in your favorite peach recipes.
(click stars to vote)
Print
Pin
Instructions
Whole Peach
Bite into the peach and enjoy. Discard the seed.
Peach slices or chunks
Place the clean peach onto a sturdy cutting board. Use a sharp paring knife to carefully cut the peach in half through the flesh, but not the pit.

Twist the peach open with both hands and remove the pit. If the pit is hard to remove cut the side with the seed in half again and remove.

Cut into slices or chunks and enjoy.
Nutrition
Nutrition Facts
How to Eat a Peach
Amount per Serving
% Daily Value*
* Percent Daily Values are based on a 2000 calorie diet.
full nutrition disclaimer
The nutritional information is automatically calculated and can vary based ingredients and products used. If the nutrition numbers are important for you we recommend calculating them yourself.