All about Lucy Glo Apples, from how to pick out lucy glo apples, how to eat Lucy Glo Apples, how to store them, and more.
What are Lucy Glo apples?
Lucy Glo Apples are tart apples with a hint of sweetness in each bite. Their skin is usually nice and golden with hints of pinkish-red blushing. The magic is on the inside where when you bite into the apple it should be a beautiful natural red color on the inside of the apple flesh.
What do Lucy Glo Apples look like?
Lucy Glow apples are medium to large apples with yellow skin. Sometimes a bit of green and sometimes red blushing. The magic of Lucy Glo apples is the flesh, which is not white like regular apples but marbled with red and pink inside.
In full transparency, this year the ones we've tried haven't been as red as the previous years we purchased. We purchased both bagged and loose Lucy Glo apples. Maybe this was due to the apples nearing the end of the season or the changes in the weather.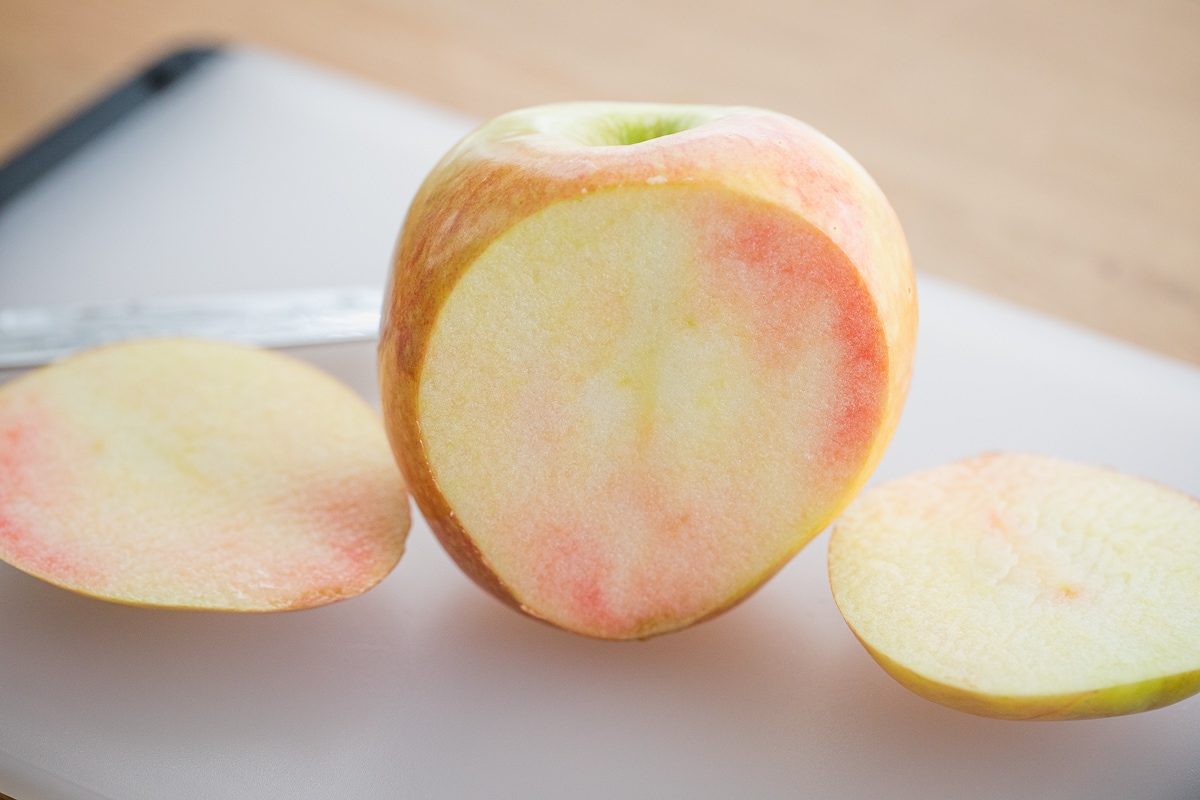 What do Lucy Glo Apples taste like?
Lucy Glo apples are crisp, slightly sweet, tart, and have hints of berries.
Lucy Glo Apple Benefits
Like regular apples, Lucy Glo apples are an excellent source of fiber, vitamin A, and vitamin C. They also contain antioxidants which have various health benefits.
When are Lucy Glo Apples in season?
You can find Lucy Glo apples in season from October through February.
How to store Lucy Glo apples
We typically store our apples in the crisper drawer, but there are tons of different ways to store apples. See our full post on How to Store Apples
How to Lucy Glo Apples
Just like any other apple, avoid any blemishes, gashes, or bruises. We find that there's no sure way to know the inside will be bright pink without cutting into it. We sometimes will press into one of the apples we've selected and if it's pink under it "may" be more pink-fleshed inside..
Can you freeze Lucy Glo apples?
Yes, you can absolutely freeze apples. Here's how to freeze apples:
Mix 2 cups of water and 1 teaspoon of salt in a bowl.
Wash the apples and prep them for freezing. Now is when you'll peel and slice or just slice if you're leaving the skin on.
Toss the apples in the water and salt mixture, then let soak for 30 seconds. Drain the apples and rinse. Place the apples onto a parchment-lined baking sheet with a bit of space between them to prevent them from freezing together. When freezing, we suggest using parchment paper or a Silpat Non-Stick Baking Mat on a cookie sheet. If not, the apples will stick to the cookie sheet.
Freeze the apples until frozen, about 4 hours. Once frozen, add the apples to a freezer-safe container and freeze for 4-6 months. We like using Stasher Bags.
How to enjoy Lucy Glo Apples
Since these aren't your average apple, we find the best way to enjoy a Lucy Glo apple is to enjoy them fresh, but they can also be cooked as well.
How to Eat A Lucy Glo Apple
All about Lucy Glo Apples, from how to pick out lucy glo apples, how to eat Lucy Glo Apples, how to store them, and more.
(click stars to vote)
Print
Pin
Ingredients
1

lucy glo apple

produce wash

water
Instructions
Wash the Lucy Glo apple with produce wash and water.

Place the apple on a clean cutting board and then use a knife to cut it into slices or use an apple slicer.
Nutrition
Nutrition Facts
How to Eat A Lucy Glo Apple
Amount per Serving
% Daily Value*
* Percent Daily Values are based on a 2000 calorie diet.
full nutrition disclaimer
The nutritional information is automatically calculated and can vary based ingredients and products used. If the nutrition numbers are important for you we recommend calculating them yourself.