Make our Celery Juice Recipe and enjoy first thing in the morning. Read our complete guide to juicing celery and all the benefits of celery juice.
Wondering if celery juice is good for you? Thanks to the Medical Medium, Anthony Williams, we're lifting up our celery juice in the morning and not sugary coffee!
So how does celery juice work?
Celery juice is soothing to the digestive tract and can help any issues with inflammation in your gastrointestinal tract. Many people who suffer from Acid Reflux / GERD, IBS, Chrons, Colitis, and other ailments have praised this green juice.
Celery helps raise the hydrochloric acid in your stomach, this acid digests food and with the help of celery juice, your stomach can digest food much more easily.
In short, it essentially helps strengthen your digestion and restores your stomaches HCL.
Benefits of Celery Juice
Studies have shown that it may help reduce your blood pressure as it contains a phytochemical which relaxes the tissues in our artery walls causing increased blood flow, which may lower blood pressure.
It has a decent amount of vitamins, A, K, and C, beta-carotene, flavonoids (helps reduce oxidative stress), magnesium, phosphorus phytonutrients, calcium, iron, and potassium.
It's a powerful anti-inflammatory juice, helps strengthen bone health, treat skin conditions, and of course, fix your gut.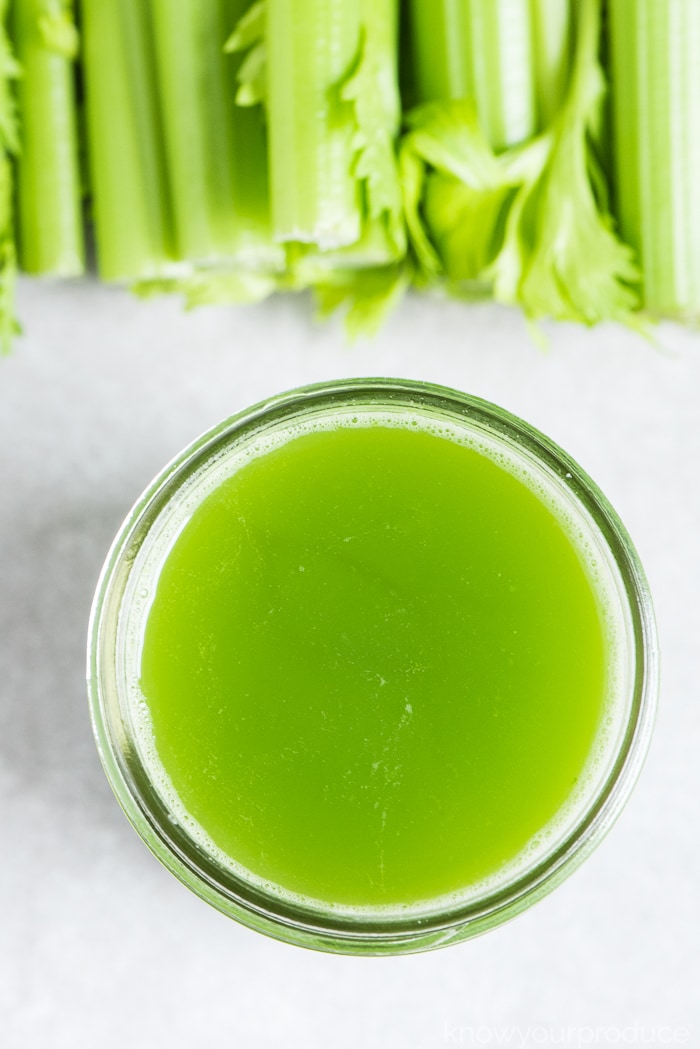 When's the best time to drink celery juice and how much?
In order to get the most benefit, you want to drink 16 ounces of celery juice first thing in the morning on an empty stomach. Do not add anything else to the juice, do not drink any water, and not even a bit of banana. It should be the only thing in your stomach.
CHEW your juice. When you chew your juice you active your salivary amylase which helps your stomach become aware that you're providing nutrients to your body. This enzyme helps activate digestion of the carbs and makes it readily available as energy.
How much celery for 16 oz juice?
About one bunch of celery will give you roughly 12-16 ounces of fresh celery juice. And if you're wondering if you can juice the celery leaves, yes, you can juice those as well.
How long after drinking celery juice can you eat?
You want to wait at least 30 minutes before consuming anything else for this to really work.
How do I make celery juice?
Pick out celery that is firm, not limp. You want to it to be very fresh so that it's not depleted of any vitamins, minerals or nutrients that we want in the juice. It should be dark green on the exterior stalks, but a litter green towards the center. If you are buying celery that still has the leaves, the celery leaves should be nice and green, not yellow.
You need fresh, preferably organic celery and a slow juicer (masticating juicer).
First, you want to wash the celery and then start juicing it. It's best to juice and then consume right away in the morning.
If you have a vertical juicer we suggest slicing the celery because celery will clog the juicer, whereas a horizontal juicer is okay with the whole stalk.
Our top pick horitzonal and vertical slow juicer.
Can I save the celery juice or make it in advance?
We do recommend making it right before you consume it. If you're wondering how long celery juice can last, if you use a masticating juicer you can save it for up to 72, but there will be a little nutrient loss and oxidation, not as much as using a centrifugal juicer or blender.
If you must prep ahead we recommend washing your celery and having it ready to juice in the morning.
Can I use a vitamix blender or centrifugal juicer?
We do not recommend using a fast juicer (centrifugal juicer) or a blender for a few reasons.
Organic produce is expensive, you may not get as much juice with either of these devices.
You're heating up the juice, which kills off some of the benefits, these process the celery at a much higher speed than the masticating juicer.
The fast juicer will produce much more pulp.
Masticating juicers will get the most out of the celery and make celery pulp that is much drier than the centrifugal juicer.
Is celery high in alkaline?
Celery depending where you look can be medium to high in pH. If you're looking for high alkaline we also suggest our alkaline smoothie.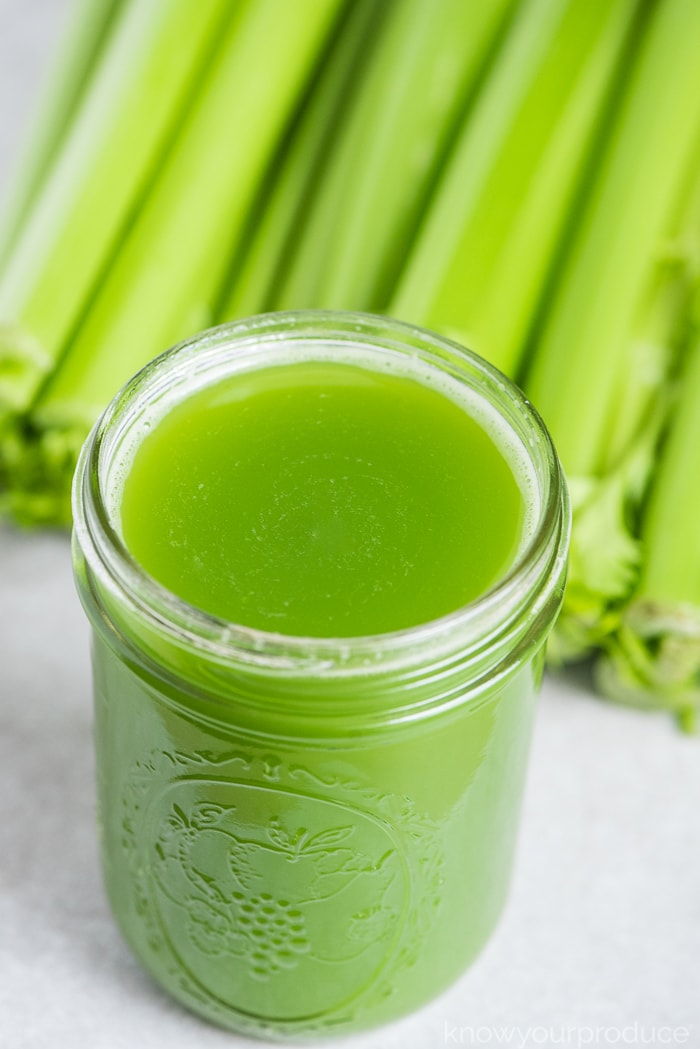 Can I just eat celery instead of juicing celery?
No, the juice is what you need for the most benefit. When you remove the fiber from the celery you're left with a nutrient dense juice that will be absorbed quickly by the body.
How can I make it taste better?
We get it, it's not the best juice, but we're not making the best tasting green juice, we're making a healing juice and for this reason, we consume it just as it is. One recommendation is to enjoy it cold. Place it in the refrigerator or freezer while you clean your juicer and it will give it a little chill and make it a little more bearable. It's not horrible, but it does take a little getting used to at first.
If you experience any discomfort from drinking celery juice reduce the amount and work your way up.
Some may experience diarrhea, but this isn't too common. You also may experience some detoxing symptoms like sluggishness, tiredness, even headaches, this is normal and should go away in time.
To sum it all up: Make sure you're starting your day with pure celery juice, 16 oz of celery juice every morning can heal your gut and a healthy gut is a big step towards a healthy body.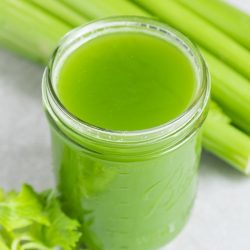 Celery Juice Recipe
Make our Celery Juice Recipe and enjoy first thing in the morning. Read our complete guide to juicing celery and all the benefits of celery juice.

(click stars to vote)
Print
Pin
Ingredients
1

bunch

celery

water and veggie wash

for cleaning
Instructions
Wash the celery and then prep your juicer to start juicing the celery.

Place one stalk in the juicer at a time allowing it to juice the celery.

Strain the juice to remove any pulp if desired.

Pour the celery juice into a large glass and enjoy.
Nutrition
Nutrition Facts
Celery Juice Recipe
Amount per Serving
% Daily Value*
* Percent Daily Values are based on a 2000 calorie diet.
full nutrition disclaimer
The nutritional information is automatically calculated and can vary based ingredients and products used. If the nutrition numbers are important for you we recommend calculating them yourself.
The information provided on this site is intended for your general knowledge only and is not a substitute for professional medical advice or treatment for specific medical conditions. You should not use this information to diagnose or treat a health problem or disease without consulting with a qualified healthcare provider. Please consult your healthcare provider with any questions or concerns you may have regarding your condition.