All about baby pineapple, from how to pick baby pineapple, how to eat baby pineapple, how to store baby pineapple and more.
WHAT IS A BABY PINEAPPLE?
Baby Pineapple is a mini pineapple that is about 4-5 inches in height and 3-4 inches in width. They are the perfect one-serving size pineapple. They're also known as Queen Victoria Pineapples, which thrive in a hot and humid climate like South Africa.
Just like a regular pineapple, they have a crown, but their crown has tiny little thorns on the sides of them.
Below is the baby pineapple crown, followed by a picture of a traditional pineapple crown.
WHAT DO BABY PINEAPPLES TASTE LIKE?
They taste similar to regular pineapple with a sweet and tart combo. In our taste test, the texture was more of a firmer, unripe pineapple.
PINEAPPLE HEALTH BENEFITS
Pineapple, in general, is low in calories. One cup of pineapple is only 82 calories, making it a healthy snack you can enjoy regularly.
Pineapple is great for digestion and anti-inflammatory properties. This tropical fruit also contains manganese and calcium. (source)
WHEN ARE PINEAPPLES IN SEASON?
Pineapple is available year-round, and the prime season is March – July.
HOW TO PICK BABY PINEAPPLE
When picking a baby pineapple, you want to find one with a yellow or golden colored exterior and rich green leaves. Avoid if the leaves aren't vividly colored and the exterior is browning.
Can you eat the core of the pineapple?
Yes, it is edible but very fibrous. We prefer to reserve them for juicing or smoothies. They say the baby pineapple core is tender and edible, but we found it tough to chew.
HOW TO STORE PINEAPPLE
Most pineapples are already ripe when you purchase them at the store. If not, you can let it ripen at room temperature on your counter and enjoy it within 2-3 days. If you don't enjoy it soon we suggest putting it in the fridge. Baby pineapple should be ripe when purchased and should be refrigerated.
If you don't enjoy the week you purchased, you can cut up the pineapple and freeze it for smoothies. But for long-term storage, you can also freeze pineapple. See our How to freeze peaches tutorial for tips on how to freeze fruit.
HOW TO FREEZE PINEAPPLE
To freeze pineapples, line a sheet pan with parchment paper. Arrange the cut pineapple on the prepared plates or sheet pan in a single layer. Freeze for a few hours, and then transfer the pineapple pieces to a freezer-safe container. Frozen pineapple will keep for up to 8-10 months.
HOW TO ENJOY PINEAPPLE
We typically enjoy fresh cut pineapple as is or in recipes. Our favorite pineapple recipe is our pineapple lemonade. It's so good and refreshing!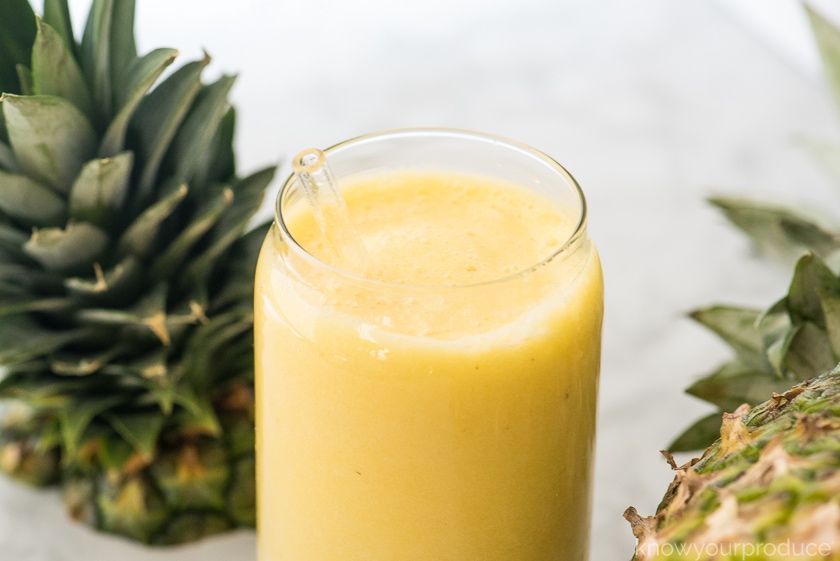 How to Eat a Baby Pinrapple
All about baby pineapple, from how to pick baby pineapple, how to eat baby pineapple, how to store baby pineapple and more.
(click stars to vote)
Print
Pin
Ingredients
1

baby pineapple

water + veggie wash

to clean
Instructions
Place the baby pineapple onto a cutting board and slice off the crown. Slice the bottom off and then remove the rest of the skin.

Slice in half and then chop into bite-size pieces or bite right into it.

Remove the core if it's too fibrous to chew.
Video
Nutrition
Nutrition Facts
How to Eat a Baby Pinrapple
Amount per Serving
% Daily Value*
* Percent Daily Values are based on a 2000 calorie diet.
full nutrition disclaimer
The nutritional information is automatically calculated and can vary based ingredients and products used. If the nutrition numbers are important for you we recommend calculating them yourself.