WHAT IS KOHLRABI?
What is kohlrabi? Just hearing about kohlrabi for the first time? Learn all about Kohlrabi and find kohlrabi recipes too!
FUN FACT: Kohlrabi is not a root vegetable – it's a part of the Brassica family.
Kohlrabi has been one of our favorite finds this summer. Whenever we mention Kohlrabi someone says, " what is kohlrabi? ". It comes in green or purple and it's extremely versatile. You can eat it raw or cooked. The flavor tastes a bit like broccoli stems, celery root, turnip and cabbage. It's a brassica, although many think it's a root vegetable. Kohlrabi is just like broccoli, cauliflower and cabbage – they all grow above the ground, whereas root vegetables grow below the ground.
The skin on the kohlrabi can be a bit tough, especially the bigger it is. Peeling is optional and not required, although many prefer to peel. Larger kohlrabi has a very strong taste and can be a bit tough. You can even use the leaves on kohlrabi, no waste here!
WHEN IS KOHLRABI SEASON
Kohlrabi is available year round with supply peaking during early summer.
HOW LONG DOES IT TAKE TO GROW KOHLRABI
Kohlrabi is a cool-weather crop. You'll want to start 3 to 4 weeks before the last frost date in spring. Kohlrabi requires 45 to 60 days to reach full maturity. If you live in a warner region, start in last summer for winter harvesting. If you live in a cold wintery region, start in summer for early autumn harvesting.
HOW TO STORE KOHLRABI
Kohlrabi will keep best in the refrigerator for several weeks. When storing, make sure you separate the leaves, as they will draw moisture away from the root and the kohlrabi will be less crispy.
Potato, Corn and Kohlrabi Chowder Recipe // Know Your Produce
HOW TO PICK KOHLRABI VEGETABLE
You want to choose a smaller kohlrabi over a big large one. The larger kohlrabi will be very strong tasting and tougher. You want a nice smooth bulb-stem with firm leafy greens.
CAN YOU FREEZE KOHLRABI
Yes! Just wash, peel and cut off the leafy greens. Leave whole or dice into cubes and place into boiling water for about 2 minutes. Place them into a cold water bath and drain. Store in a freezer safe container and enjoy for months to come.
HOW TO USE KOHLRABI
There's no wrong way to eat Kohlrabi! It's extremely versatile like we mentioned and it can lend well to many recipes you already know and love.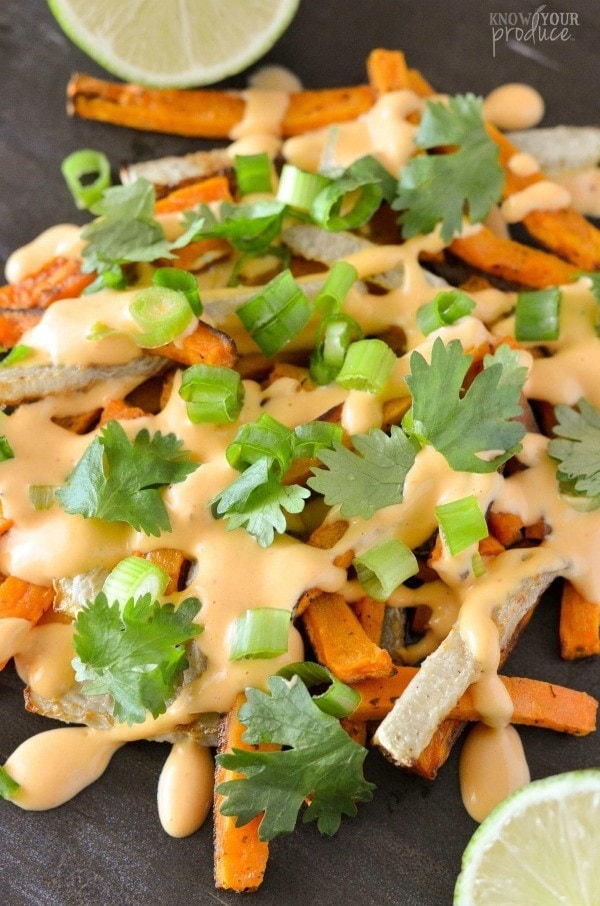 Sweet Potato and Kohlrabi Fries with Spicy Roasted Red Pepper Mayo // Know Your Produce
More Kohlrabi Recipes
Mashed Cauliflower and Kohlrabi // The Lemon Bowl
Raw Root Bowls with Zesty Orange Dressing // The Roasted Root
Egg, Carrot & Kohlrabi Sushi // Farm Fresh Eats
Kohlrabi Fritters // Hezzi D's Books and Cooks
Grilled Kohlrabi Leaf Chips // Farm Fresh Eats