Learn how to grow carrots in the spring or fall from seed. We're showing you how to grow carrots in containers with photo and video.
How to Grow Carrots
Today we're showing you how to grow carrots from seed. Some may wonder if you can get carrot transplants or transplant carrot seedlings successfully, and the answer would be no. Carrots do not transplant well, and it's best to grow carrots from seed right where you intend to let them fully grow.
You can plant carrots into a raised bed, in the ground, and in containers. Containers are our top pick as we can control the soil more in our backyard. Unfortunately, many people still find it okay to use roundup, so we keep all of our plants elevated and off the ground.
We are having great success with Renee's Garden, so far 100% germination, even with our carrots!
How to grow carrots in containers
Carrots like loose soil, and they need moist soil with good drainage. Make sure you're using a good potting mix. We go with Black Gold due to food allergies. You can also add compost and fertilizer as needed. We recommend using plastic number 5 with pp at the bottom for containers. If there are no drain holes, you'll want to make some so that it can properly drain after watering.
To plant carrots in your container, we suggest making sure you're using good quality soil. Ensure that you have broken up the soil and that no compacted pieces would prohibit the carrots from growing into the soil. They are root vegetables, after all.
Sow carrot seeds directly into the soil, 1/4 inch deep and about 2 inches apart. You can do it in rows using a square or rectangle space. If you're using a circular container, you can go in circles.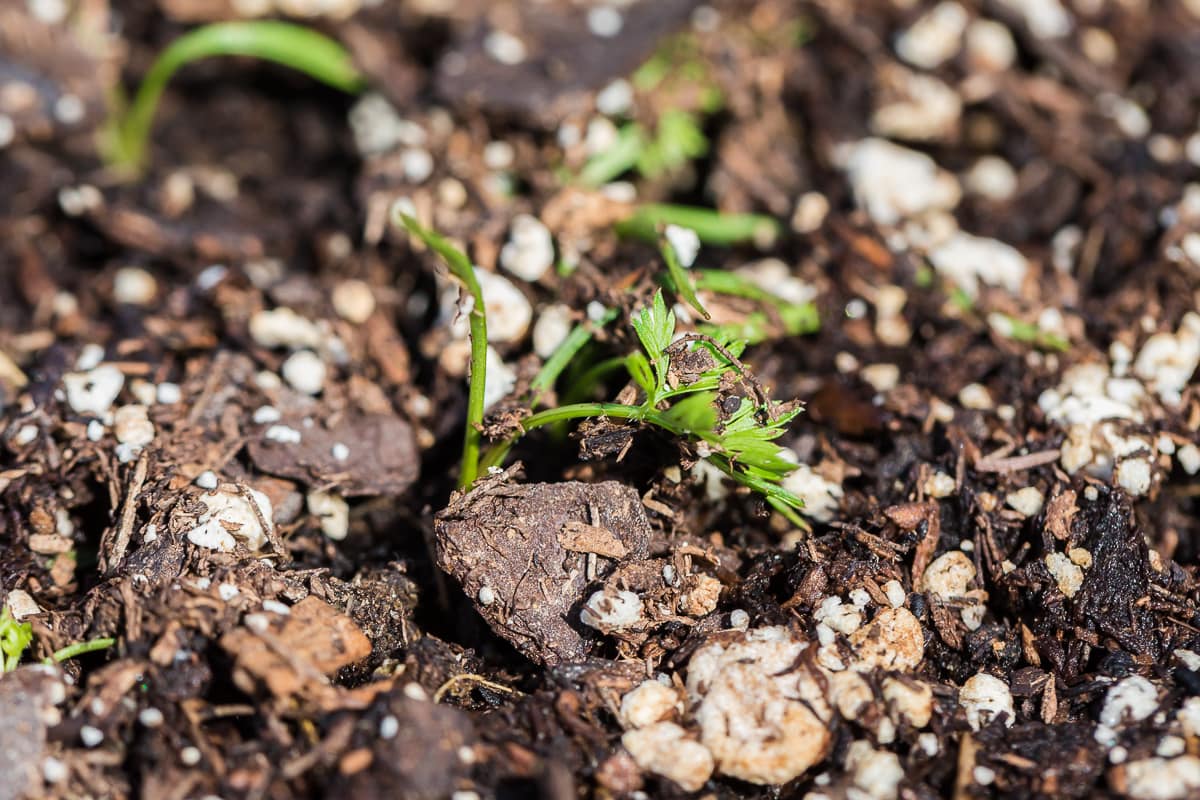 How long does it take for carrots to grow?
It typically takes 60 to 80 days from seed to harvest carrots. The amount of time will depend on the variety of carrots planted.
How to thin carrots
If you've planted too many carrots seeds, you'll need to thin your carrots. We find the best way to thin carrots is by letting them establish a bit and then going for the smallest sprouts in the crowd. You want about 1-2 inches between the carrots. If you thin again later during the growing season, you may be able to harvest some thin carrots that you can snack on.
When should you plant carrots?
It will depend on your area, we always recommend looking at the Almanac calendar for planting in your area.
Here in 7a, carrots should be planted in early spring or early to late fall.
When should you fertilize carrots?
We always fertilize our garden about 10-15 days after planting. However, you want to ensure you see some growth before fertilizing. About 2-3 inches tall is a good start.
Do carrots need full sun?
Yes, carrots like full sun, but they don't like extreme heat in the middle of summer, so it's best to plant during early spring or early to late fall.
When to harvest carrots
Carrots are ready to harvest about 60 to 80 days after planting, depending on which variety of carrots you planted. After that, the carrot tops may start to pop out of the soil, but this doesn't always happen.
How to harvest carrots
To harvest carrots easily, you can wet the soil a bit to loosen it. Then you'll want to gently wiggle close to the root of the carrot, careful not to break the carrot tops. After wiggling, you should be able to pull the carrots out of the soil.