In 15 minutes you can have quick pickled beets. This is a quick recipe using either cooked or even canned beets with a homemade brine. Eat as a snack, top salads, top burgers, and more.
Pickling veggies is a great way to transform the flavor. These beets are so flavorful, tangy, and can take a dish from plain to wow. It's perfect with our Vegan Black Bean Burgers with Mushrooms, Ground Chicken Burgers, or even over salads.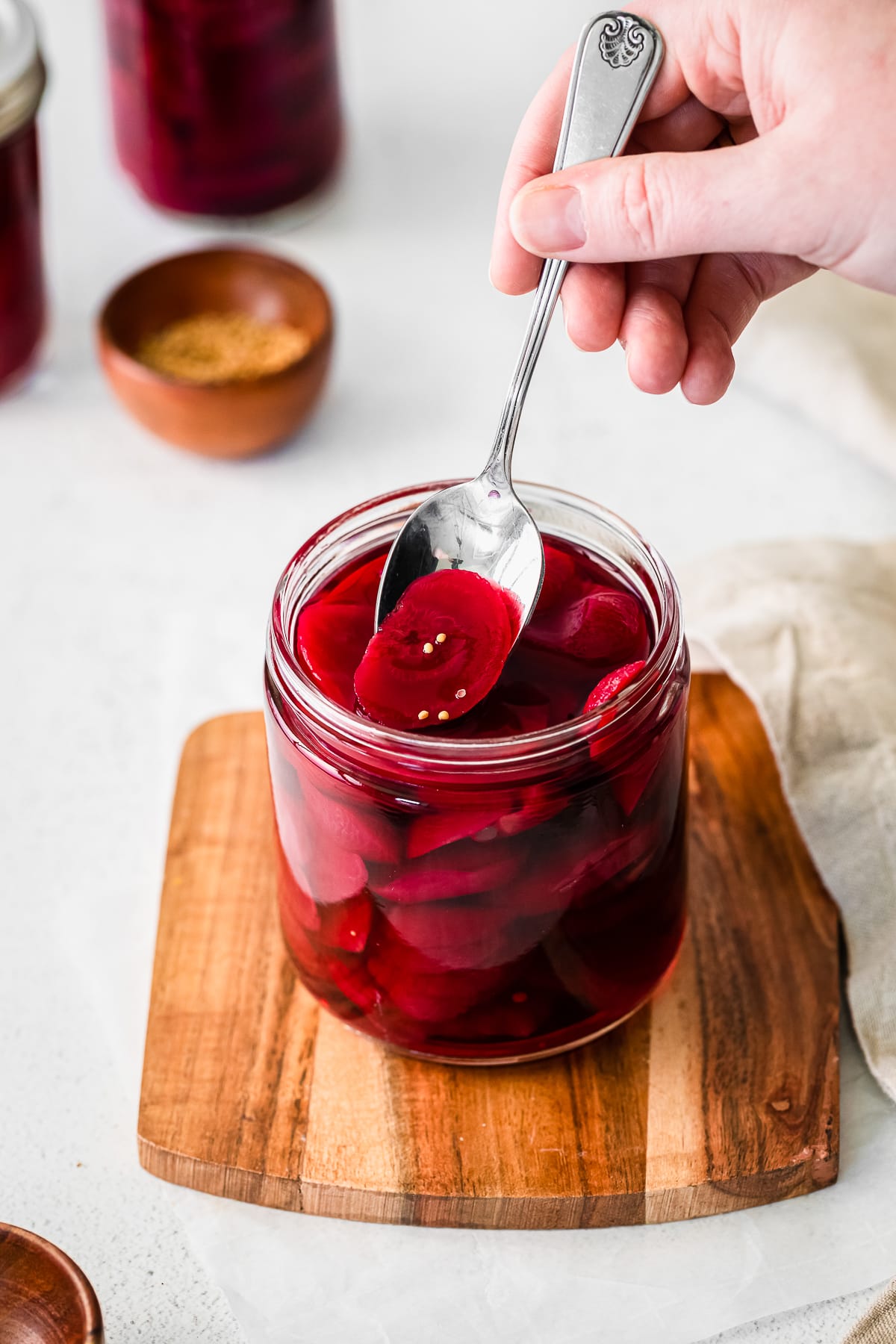 Recipe ingredients and notes: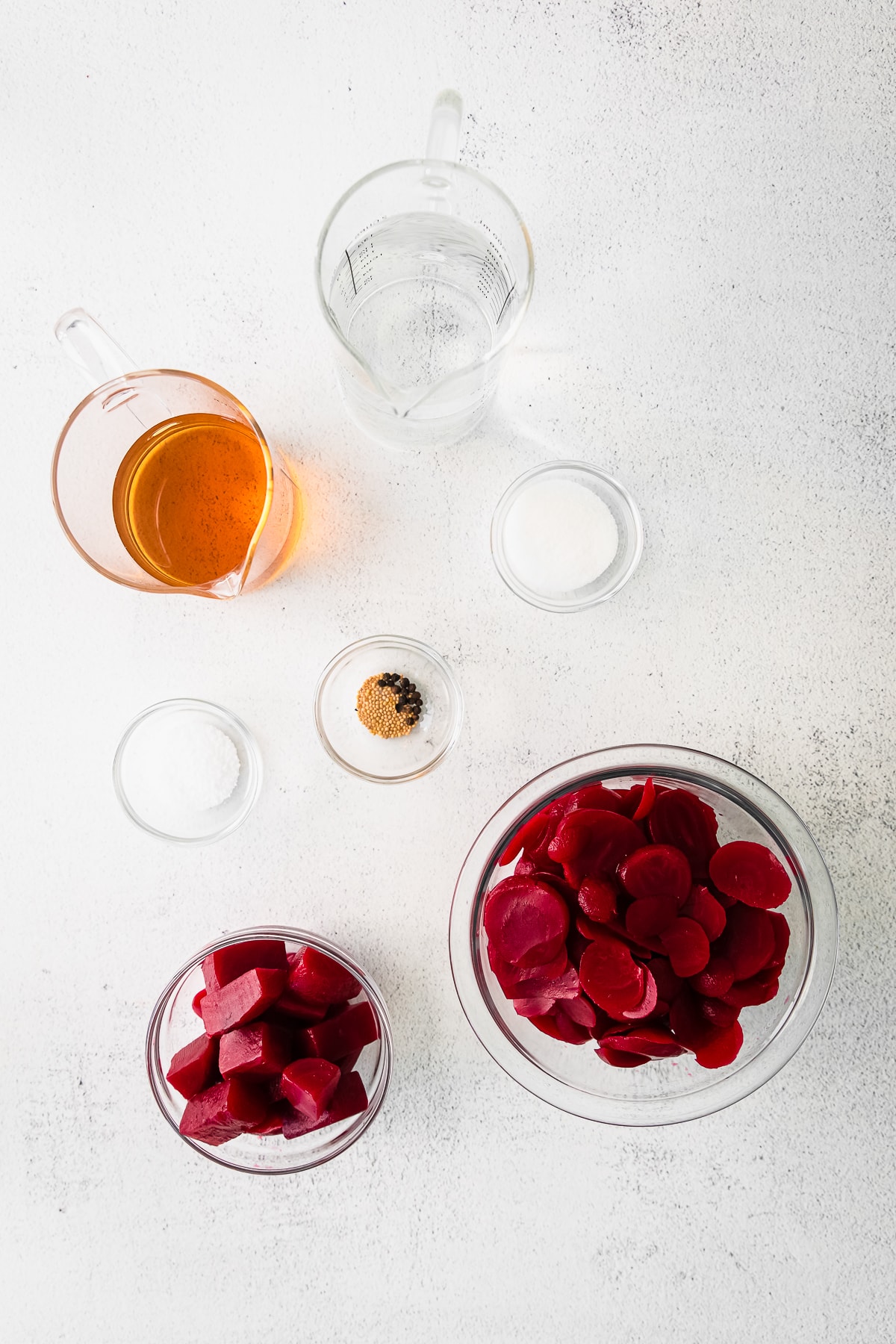 Beets – You can cook fresh beets, roast, steam, or use canned beets. You may love using canned beets as it really speeds up the prep even more.
Apple Cider Vinegar – This gives a nice pairing of flavor to the beets. But you can swap with rice vinegar, white wine vinegar, or distilled white vinegar if you would like.
Kosher Salt – Kosher or sea salt is best when it comes to pickling. You have larger pieces of salt so it works better for your pickling.
Mustard Seeds – This is going to help give your pickled beets a bit more of a kick of flavor.
Sugar – Using sugar helps enhance the natural sweetness in the beets. You can leave it out or use brown sugar for a richer flavor.
Black Peppercorns – Adds a bit of spicy component to the beets.
Water – helps the sugar and salt dissolve and makes up some of the brine. If there isn't enough brine you can use additional water.
Step-by-step instructions
For the full ingredient amount and full instructions on how to make quick pickled beets see the recipe card below.
The first thing is to cook your beets as you would like or reach for a can of beets.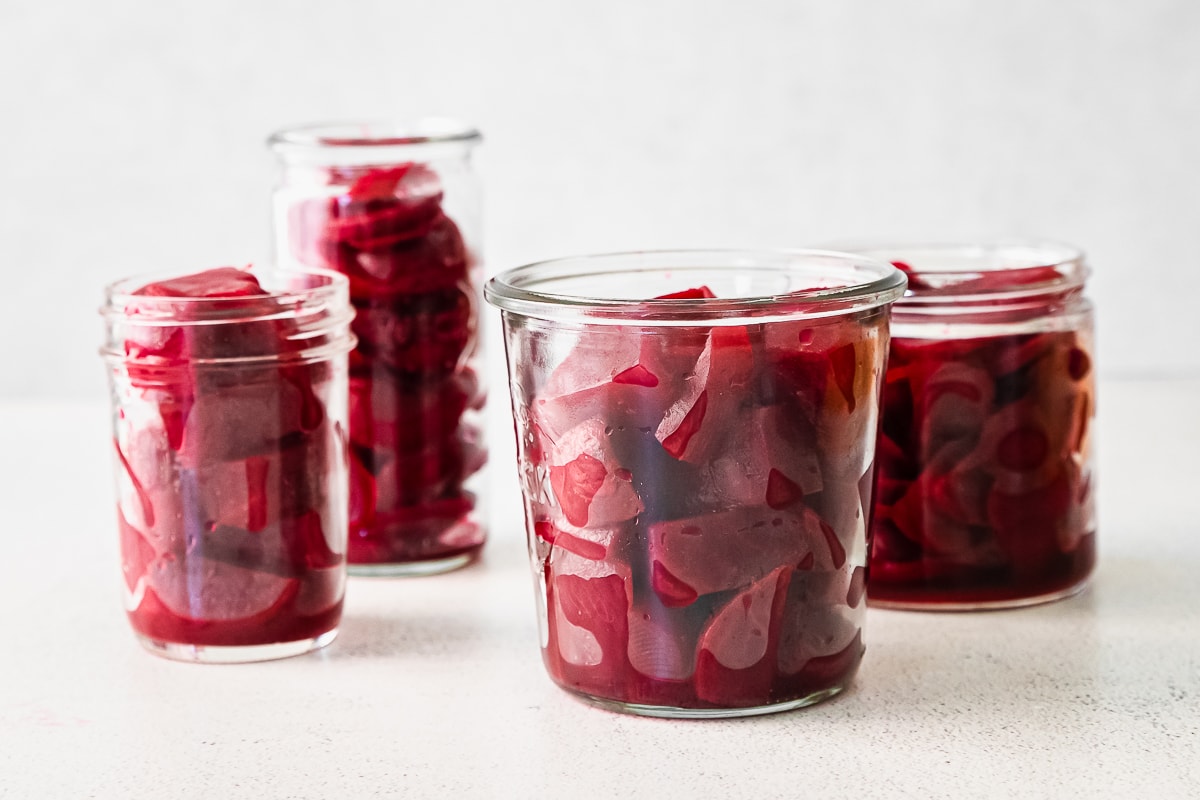 Cut the beets as desired and place the sliced beets in jars and set them to the side.
On the stovetop, you are going to add all your ingredients for the brine and cook. Bring the mixture to a boil, and dissolve the salt and sugar.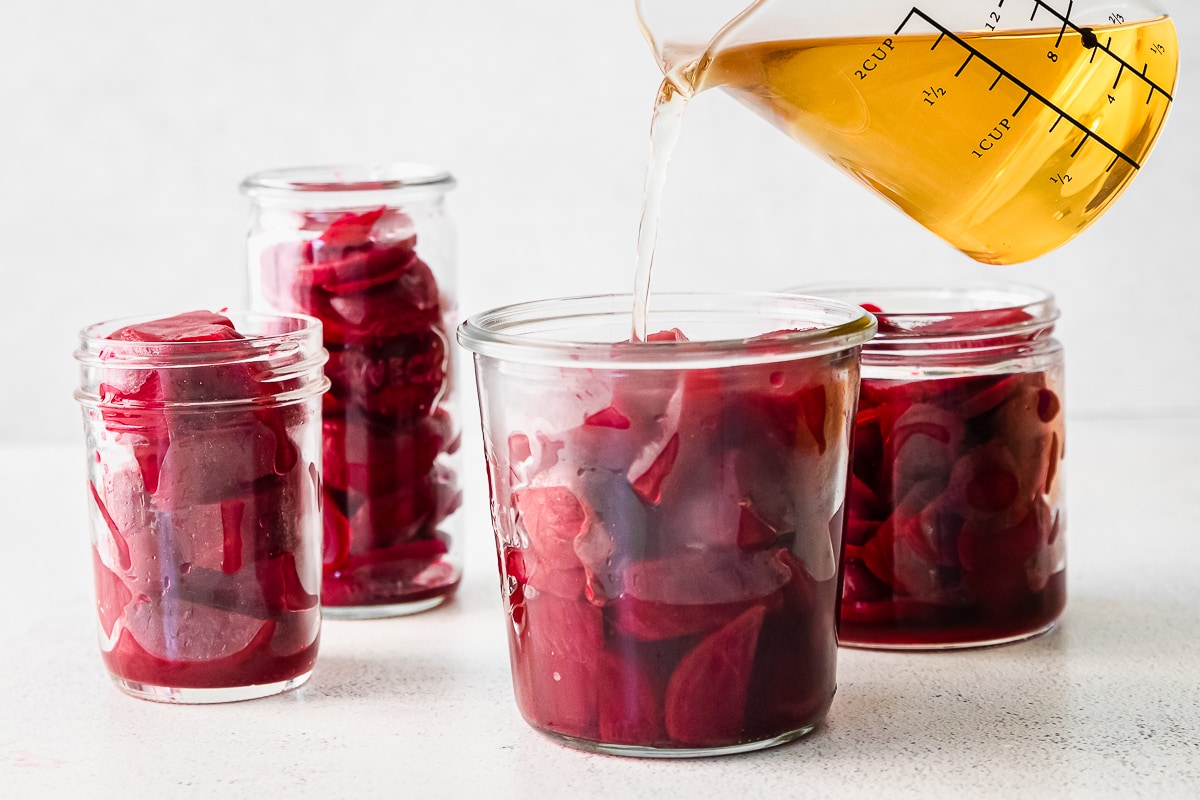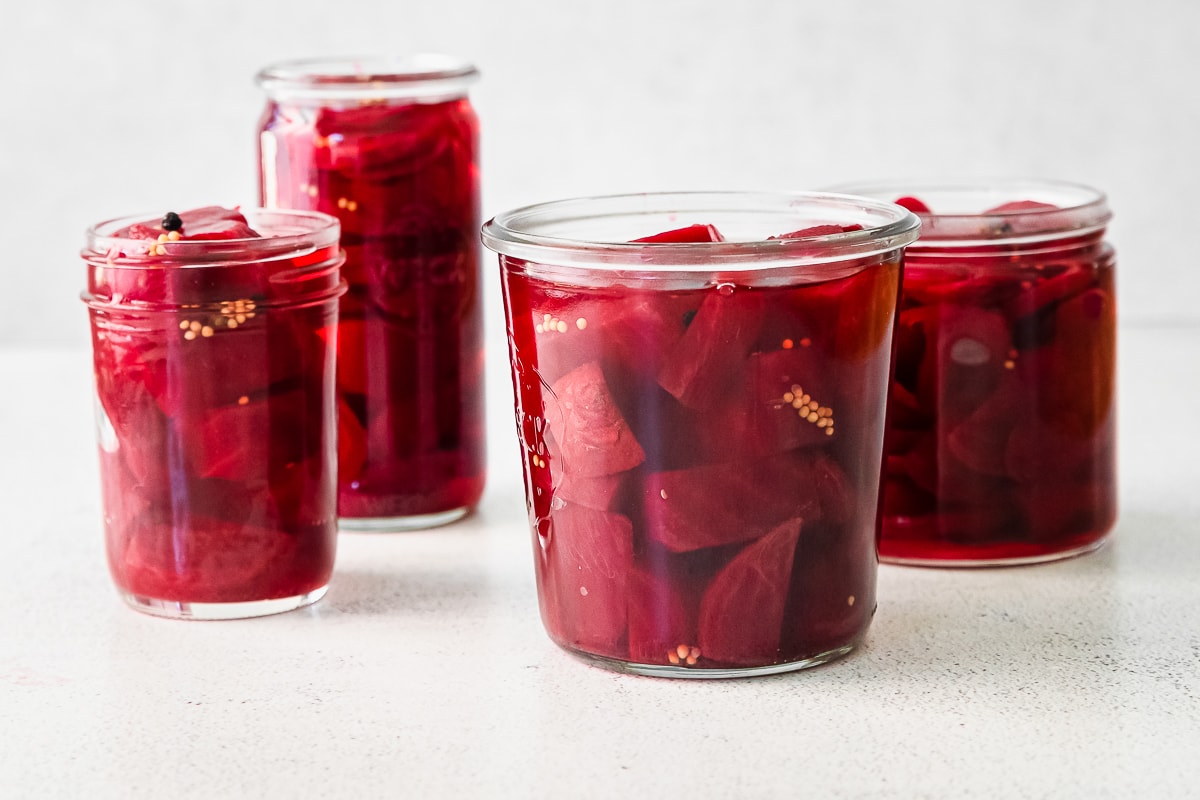 Pour the brine over the beets, covering them. Seal the jars and refrigerate for up to two weeks.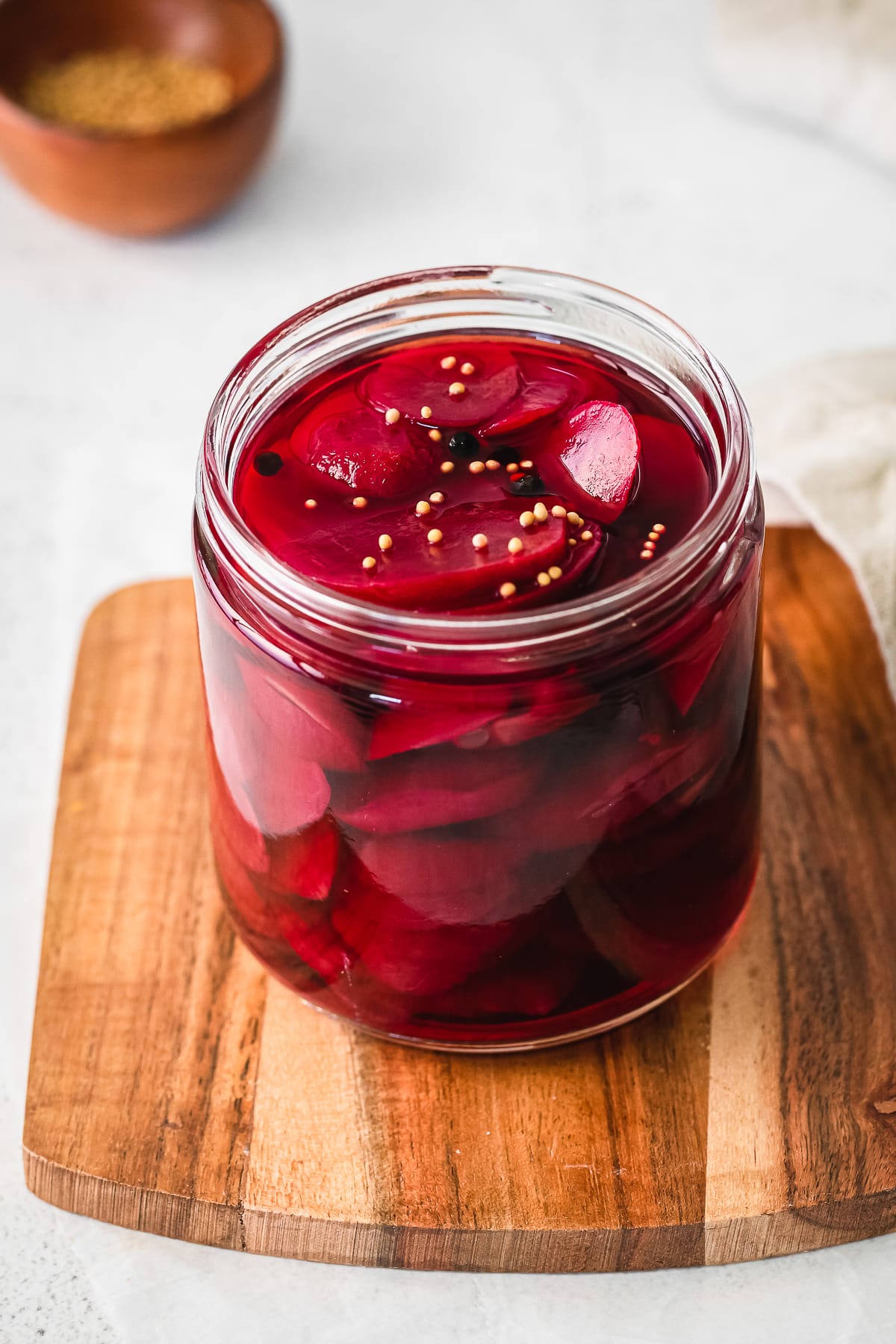 You can eat them after 15 minutes, but the flavor will be light. The longer it sits in the fridge the bolder the flavor.
Recipe Tips and Alterations:
To roast beets wash and remove the green tops. Then you will add a little oil to them and wrap them in foil. Bake at 400 degrees F and cook for around 45 minutes or until they are tender when poked with a knife. Let sit for 5-8 minutes, then peel and slice.
Boiling beets is easy. Add your diced and peeled beets to boiling salted water. Cook for 30 minutes or until beets are fork tender. Drain and place in an ice water bath.
The granulated sugar in this recipe will bring out the sweetness of the beets.
Aim to cut your beets in similar sizes so they pickle the same amount.
Storage and reheating tips:
Refrigerate: Store the jars of pickled beets in an airtight container in the fridge for up to 2 weeks.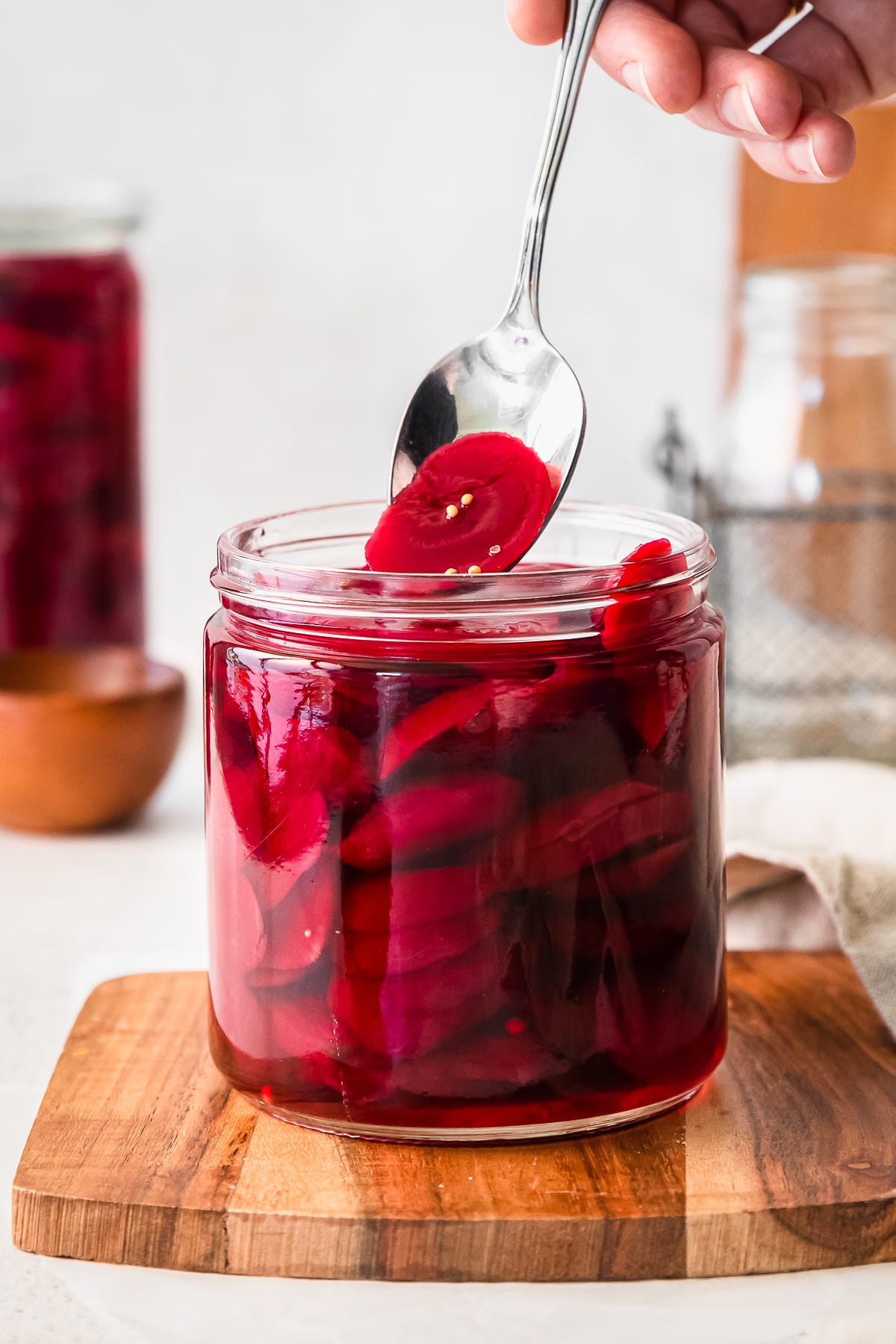 How to serve:
You can serve your beets as a topper on salad, eat them as a snack, serve them on the side, or even top your burger with them. These pickled beets are very versatile.
Frequently asked questions
Are pickled beets as healthy as fresh?
You need to consider the salt and sugar used to pickle beets. Overall, you will get similar nutrients from the beets themselves.
Do pickled beets have to be sealed?
The pickled beets need to be in an airtight container. These quick pickled beets are not shelf stable, as they do not go through the canning process. These beets need to be refrigerated.
Are beets anti-inflammatory?
Beets are said to help reduce inflammation in the body. They are a great item to add to your meal plan.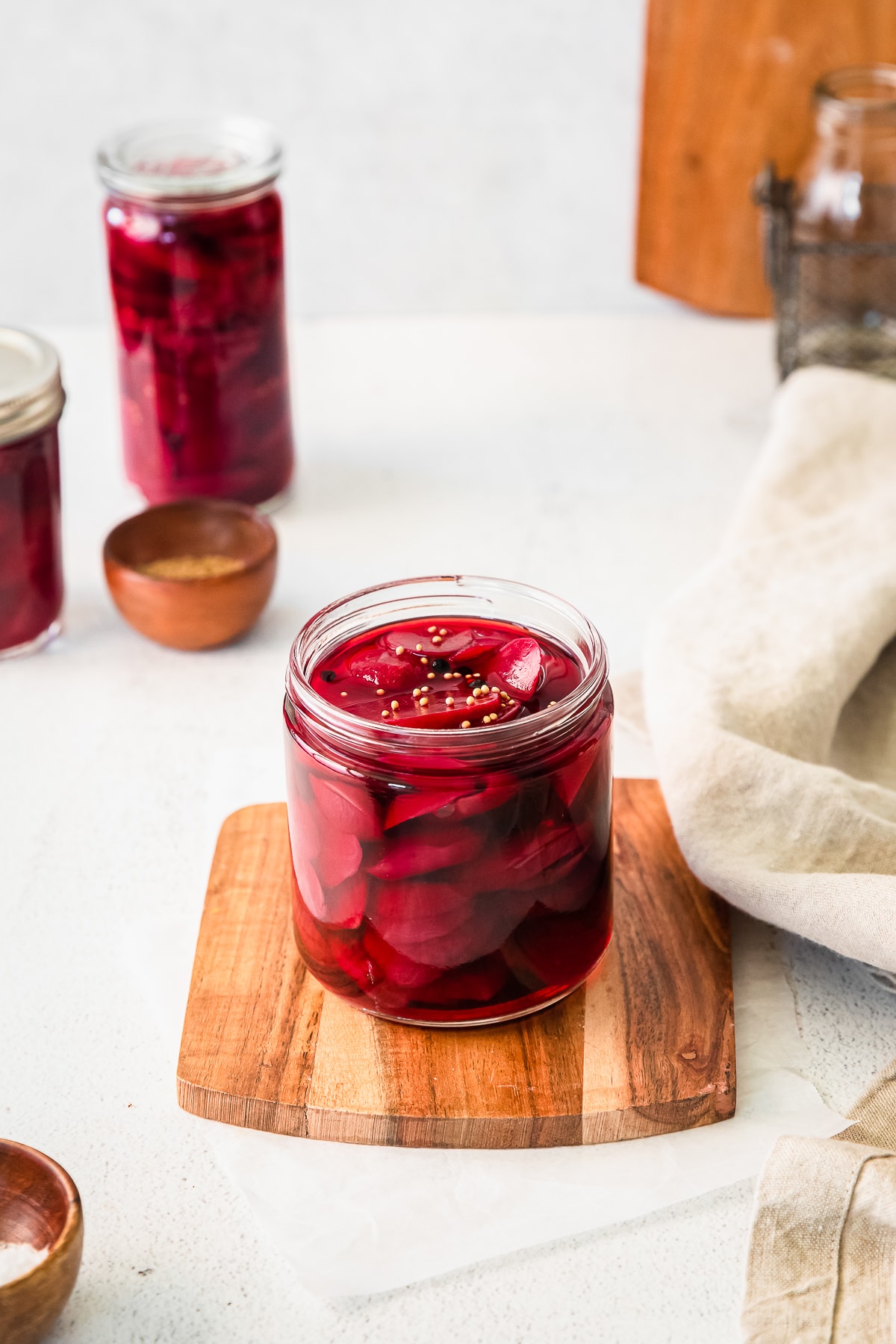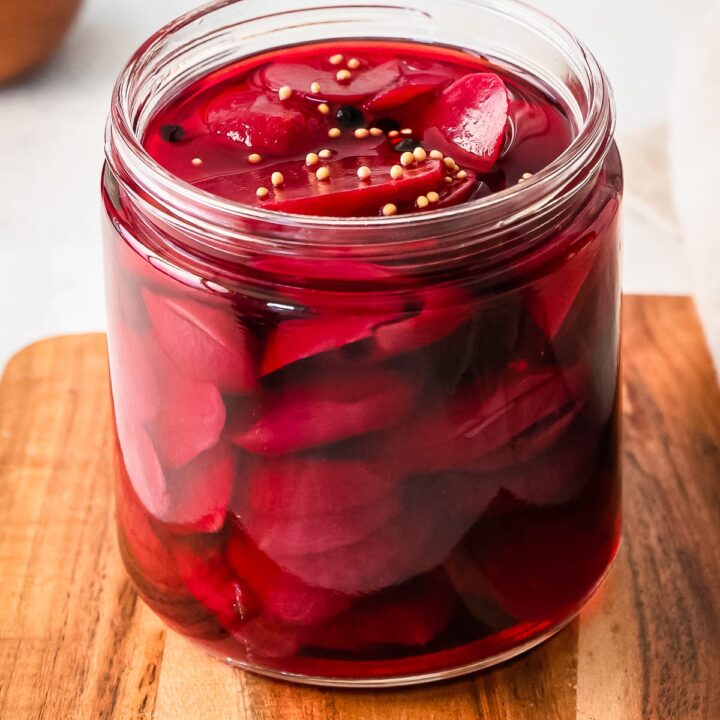 Quick Pickled Beets
Skip the tedious work of pickling and learn how to quick pickle beets. This quick pickled beets recipe starts with canned beets or cooked beets. Simple steps, great flavor. The best pickled beets recipe out there.
(click stars to vote)
Print
Pin
Ingredients
2

cups

cooked beets

or canned beets, see notes

2

cups

water

1

cup

apple cider vinegar

2

tablespoons

granulated sugar

2

teaspoons

kosher salt

¼

teaspoon

whole mustard seeds

¼

teaspoon

whole black peppercorns

about 3
Instructions
Slice or chop the cooked beets to your desired size. Add them to an airtight food safe jar or container and set them aside while you make the brine.

Combine the water, vinegar, sugar, salt, mustard seeds, and peppercorns in a small saucepan set over medium heat.

Bring the brine mixture to a boil and cook until the sugar and salt have fully dissolved.

Allow the brine to cool and then pour the brine over the beets, making sure to cover them completely.

Seal the container and place it in the fridge to chill. Wait at least 12 hours before enjoying.

Store the beets in an airtight container in the fridge for up to two weeks.
Notes
This recipe works well with boiled, steamed, or roasted beets. Roasting the beets will give them even more flavor.
To roast, the beets wash them and remove their greens. Cover the beets with olive oil and wrap them up in foil. Bake them on a baking sheet in a 400 degree F oven for 45 minutes or they can easily be pierced with a fork. Allow them to sit for 5 minutes before peeling the skin away from the beets and cutting.
To boil the beets bring a large pot with salted water to a boil. Wash and trim the beets removing the greens. Cook the beets in the water for 30 minutes and then remove them from the water. Place into an ice bath to stop the cooking process and then you can remove the skin and cut as desired.
Nutrition
Nutrition Facts
Quick Pickled Beets
Amount per Serving
% Daily Value*
* Percent Daily Values are based on a 2000 calorie diet.
full nutrition disclaimer
The nutritional information is automatically calculated and can vary based ingredients and products used. If the nutrition numbers are important for you we recommend calculating them yourself.
Did you try this recipe? ⭐ ⭐ ⭐ ⭐ ⭐ Don't forget to leave a recipe rating! Also, tag us @knowyourproduce on Instagram and hashtag it #knowyourproduce so we can share it!