What are Sweet Potatoes? Come and find out all about them!
FUN FACT: Sweet Potatoes and Yams are not the same. They're two different vegetables. You may see a yams sign at your supermarket, but they're most likely sweet potatoes.
There's numerous types of sweet potatoes ranging from orange, yellow, red, tan/white and even purple. Sweet potatoes are high in vitamin A, vitamin C, maganese, copper, panthoenic acid, vitamin B6, potassium, biotin, and the list goes on. They're great for digestion since they're loaded with fiber and can even help regulate glucose. Many gym goers rush home and eat sweet potatoes for their anti-inflammatory benefits and antioxidants. The more intense a sweet potatoes color, the more beta-carotene, especially in orange and yellow. Sweet potatoes can be used as a side dish, main course or even a sweet dessert. In some studies Sweet Potatoes have been shown to be a better source of bioavailable beta-carotene than leafy green vegetables. The more intense a sweet potatoes color, the more beta-carotene, especially in orange and yellow. The skin on the sweet potatoes can be eaten and you can even eat sweet potatoes raw!
WHEN ARE SWEET POTATOES IN SEASON? Sweet potatoes can be found in supermarkets year round, however they are in season in November and December.
HOW LONG DOES IT TAKE TO GROW SWEET POTATOES You won't be able to see the size of the sweet potatoes underground, but make sure to wait at least 120 days before harvesting. They are sensitive to cold so they shouldn't be planted outdoors until the soil has warmed to at least 60 degrees, including night time temperatures.
HOW TO STORE SWEET POTATOES They should always be stored in a dark cool and adequately ventilated area. You can store them for about 10 days without too much nutrient loss. Always keep in mine they've been sitting in the supermarket before your counter. Try to avoid placing into the refrigerator.
HOW TO CHOOSE SWEET POTATOES When picking sweet potatoes you'll want to find ones that are firm with no soft sports, bruises or cracks.
CAN YOU FREEZE SWEET POTATOES We recommend cooking before freezing. You can boil, steam, or bake. Keep in mind the texture will not be the same once defrosted as it was when first cooked.
HOW TO USE SWEET POTATOES Sweet potatoes are extremely versatile. You can boil, bake, steam and even enjoy them raw. Ranging from savory to sweet, there's no wrong way to enjoy and use your sweet potatoes. Below find a few recipes that we love!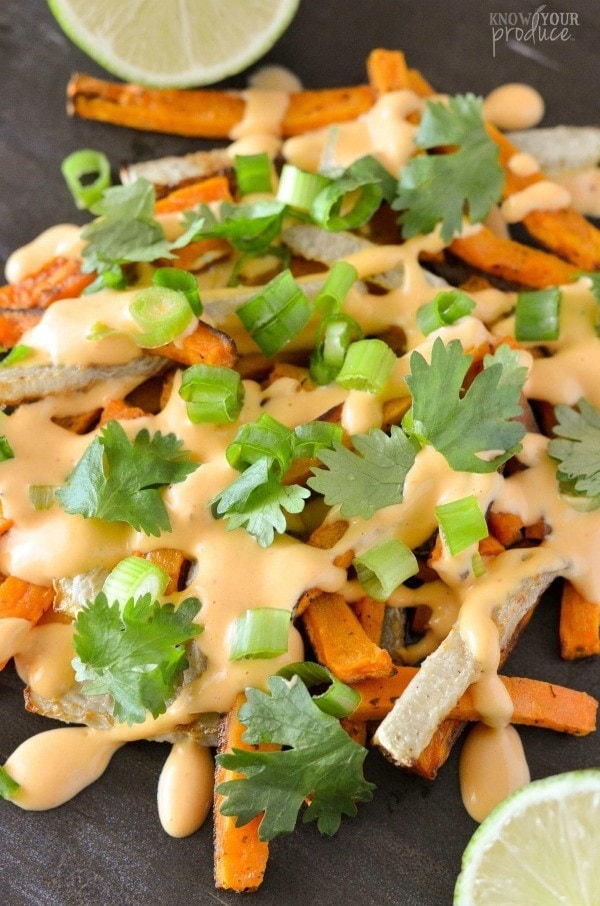 Sweet Potato and Kohlrabi Fries with Spicy Roasted Red Pepper Mayo // Know Your Produce
Overnight Sweet Potato Pecan Monkey Bread // Farm Fresh Eats
Sweet Potato Stew // We're Parents!?
Crispy Sweet Potato Wedges with Garlic avocado Aioli // Cafe Delites
Crock Pot Sweet Potato Chipotle Chili // Cotter Crunch
Honey Lime Black Bean and Sweet Potato Tacos // The Chunky Chef
Oven Roasted Sweets and Beets // Super Healthy Kids
Twice Baked Candied Sweet Potatoes // Homemade Hooplah
Down Home Sweet Potato Biscuits with Country Gravy // The View From The Great Island
Roasted Sweet Potatoes and Brussels Sprouts with Pecans // Aggie's Kitchen
Paelo Turkey Sweet Potato Chili // Kalyn's Kitchen
Smashed Sweet Potatoes // Recipe Girl
Chili Stuffed Sweet Potatoes Peas and Crayons
Sweet Potato and Black Bean Quinoa Bowls // Recipe Runner
Sweet Potato Breakfast Skillet with Bacon // Allergy Free Alaska
One pan Roasted sweet Potato Burrito Bowls // The Muffin Myth
Loaded Sweet Potato Nachos // Two Peas and Their Pod
Pressure Cooker Sweet Potato Casserole // Pressure Cooking Today
Sweet Potatoes in a Slow Cooker // Super Healthy Kids
Find even more delicious sweet potato recipes on our Sweet Potatoes Recipes board!
Follow Know Your Produce's board Sweet Potato Recipes on Pinterest.
Did you enjoy this post? Click here to pin it for later. Also check out all of our other favorite recipes and produce posts on Pinterest!