Broccoli Quinoa Fried Rice, a protein packed side dish or even main course.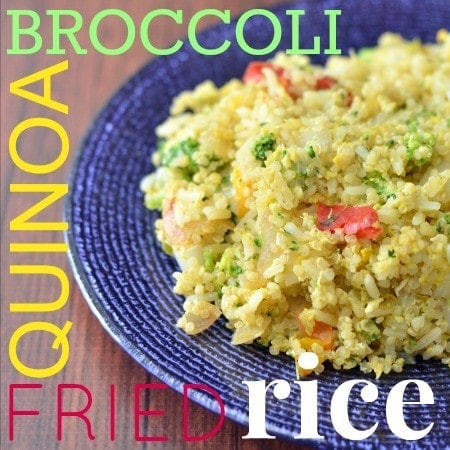 this post contains affiliate links – if you make a purchase through the link we earn a commission, thanks for supporting our site!
Broccoli is our daughters favorite vegetable.  Did you know that broccoli is actually a part of the cabbage family It's high in vitamin C and dietary fiber. Eating broccoli or other cruciferous vegetables increases absorption of cancer-fighting nutrients!  So go buy yourself some broccoli, we always have it in our home!
Yes, we still use rice!  We love quinoa and we love rice, however we really try to limit our rice to less than 1 cup as a family per month.  I've read stories about rice containing arsenic and brown rice containing more arsenic, so we've switched back to white jasmine rice.  Many tend to think that quinoa is a grain, but it's actually a seed!  It's well known for being full of protein and a great substitute for other starch in a meal without it being a starch! Did you know that Quinoa is also packed with magnesium and iron?  Calcium also contains some calcium, making it a staple for some who avoid dairy or are lactose intolerant.  It's also gluten free, which is why it was one of my daughter's first foods!
Also we only use a nonstick green pan when making eggs, otherwise we only use stainless steel or cast iron. Make sure you use soft utensils, like silicone utensils when using nonstick, even if it's chemical free.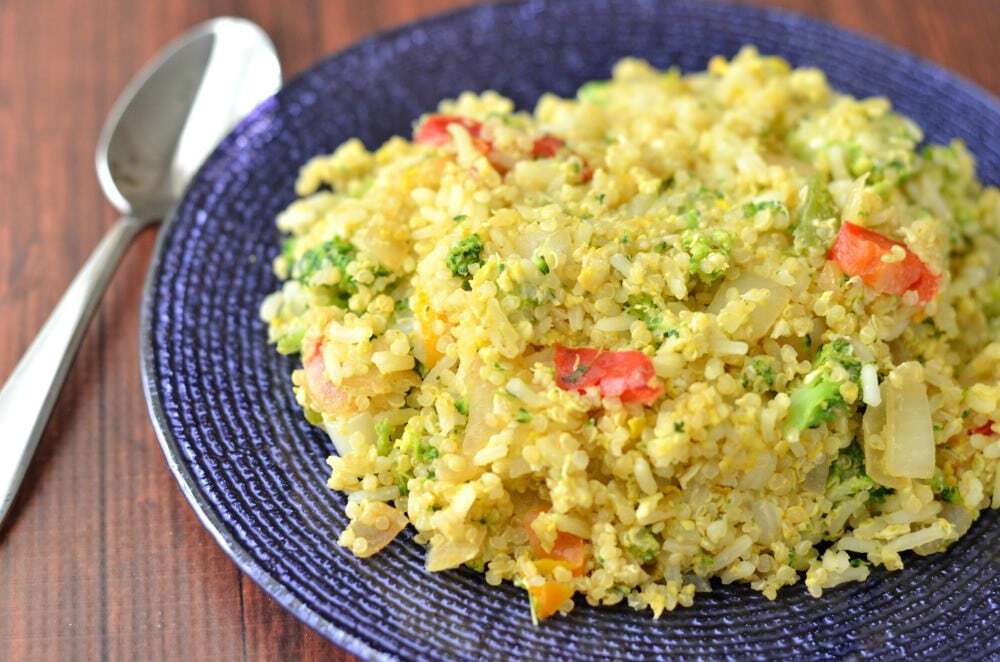 Chris tolerates quinoa but if I serve it own it's own he won't touch it.  A few months ago I started making a 4 to 1 ratio of quinoa to jasmine rice.  Ah, ha!  Got him!  I boil my quinoa and rice together and find that the starch from the rice helps the quinoa not get all over as much.  Have you ever given a toddler quinoa?   All over right?   We boil the water, add in the quinoa, then about 3-5 minutes later add in the rice.   I like to make a batch for the week so we can enjoy it along side our meals and if there's leftovers I always make Broccoli Quinoa Fried Rice!   It's a hit in this house 🙂
Note: Our daughter cannot have soy so we use plain ol' salt in this recipe.  You can use soy instead of the salt, but we think the flavor is pretty much spot on without it.
Broccoli Quinoa Fried Rice
Ingredients
½ small yellow onion, chopped
½ cup peppers, chopped (any color is fine, we use all colors!)
½ cup broccoli, chopped
¼ teaspoon minced garlic
1½ cups quinoa rice
¼ - ½ teaspoon salt
1 large egg
Instructions
In a pan saute a onion with a little olive oil until slightly browned, add in the remaining vegetables and cook them until al dente ( a little firm, not mushy).
Add in the quinoa rice to warm it up and sprinkle in the salt.
Create a well in the center of the pan and add in your egg, stirring quickly to cook and get a good scramble.
Mix the eggs with the rest of the ingredients to combine and serve.
Did you enjoy this post? Click here to pin it for later.  Also check out all of our other favorite Broccoli recipes and posts on Pinterest!