Make our quinoa fried rice recipe with broccoli! It's not only delicious but filled with veggies and protein!
We have a small problem with quinoa. It is super messy for our daughter to eat, even sometimes for us. Quinoa needs a spoon, not a fork. For this reason, we've been mixing our rice with quinoa and noticed that the extra starch in the rice binds to the quinoa while cooking and it holds together much better. We love both rice and quinoa. Quinoa was a great rice alternative for us, but once we had our daughter it was just too hard for her to eat by herself, she would get very frustrated when it fell off the spoon. Since making it with rice that is the way we've done it ever since.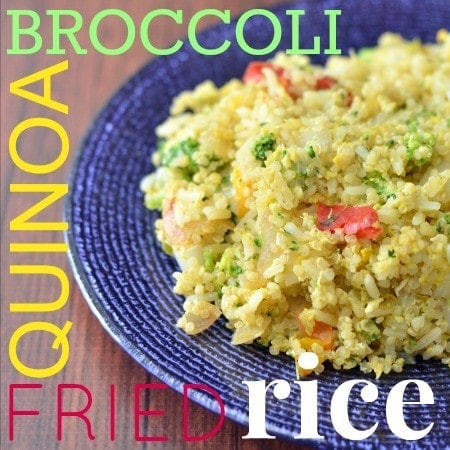 Now when I make the quinoa rice, I will make a large batch so we can use for meal plans, dinners, and of course our quinoa fried rice!
Broccoli is our daughters favorite vegetable. Did you know that broccoli is a part of the cabbage family It's high in vitamin C and dietary fiber. Eating broccoli or other cruciferous vegetables increases absorption of cancer-fighting nutrients! So go buy yourself some broccoli, we always have it in our home!
We've read stories about rice containing arsenic and brown rice containing more arsenic, so we've switched back to white jasmine rice or basmati rice. Many tend to think that quinoa is a grain, but it's a seed! It's well known for being full of protein and an excellent substitute for other starch in a meal without it being a starch! Did you know that Quinoa is also packed with magnesium and iron? Calcium also contains some calcium, making it a staple for some who avoid dairy or are lactose intolerant. It's also gluten-free, which is why it was one of our daughter's first foods since she was allergic to many foods containing protein. (she outgrew her food allergy, Food Protein-Induced Enterocolitis Syndrome aka FPIES)
Also, we only use a nonstick green pan when making eggs. Otherwise, we just use stainless steel or cast iron. Make sure you use soft utensils, like silicone utensils when using nonstick, even if it's chemical free.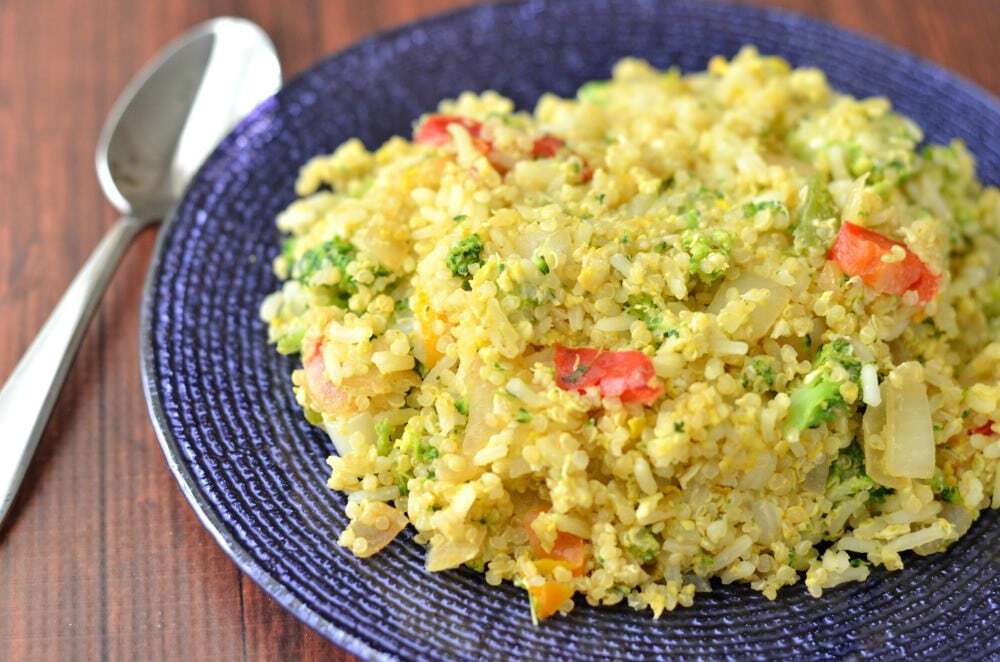 How to make quinoa fried rice
We do 1 part rice, 3 parts quinoa. Rinse and drain your quinoa and rice well using a mesh strainer and then place into a saucepan. Cover with water and allow to boil, once it's boiling reduce heat to low and cover to cook, fluffing here and there.
Quinoa and rice both use a 2:1 ratio, or two cups of water for every 1 cup. So if you use 1/3 cup of rice and 1 cups of quinoa, you'd use about 2 2/3 cups of water. If you want to make quinoa fried rice on its own, you can do that and follow the rest of the recipe by omitting the rice.
Quinoa Fried Rice
Make our quinoa rice recipe so you can turn it into Quinoa Fried Rice - It's not only delicious but filled with veggies and protein!
(click stars to vote)
Print
Pin
Ingredients
1/2

small yellow onion

chopped

1/2

cup

peppers

chopped (any color is fine, we use all colors!)

1/2

cup

broccoli

chopped

1/4

teaspoon

minced garlic

1

cups

quinoa

cooked

1/3

cup

jasmine rice

cooked

1/4 - 1/2

teaspoon

salt

1

large egg
Instructions
In a pan saute onion with a little olive oil until slightly browned, add in the remaining vegetables and cook them until al dente (a little firm, not mushy).

Add the quinoa rice to warm it up and sprinkle with the salt.

Create a well in the center of the pan and add in your egg, stirring quickly to cook and get a good scramble.

Mix the eggs with the rest of the ingredients to combine and serve.
Nutrition
Nutrition Facts
Quinoa Fried Rice
Amount per Serving
% Daily Value*
* Percent Daily Values are based on a 2000 calorie diet.
full nutrition disclaimer
The nutritional information is automatically calculated and can vary based ingredients and products used. If the nutrition numbers are important for you we recommend calculating them yourself.