Looking for a delicious new Lemonade Recipe?  Try our Pineapple Lemonade Recipe. Making homemade lemonade, simple!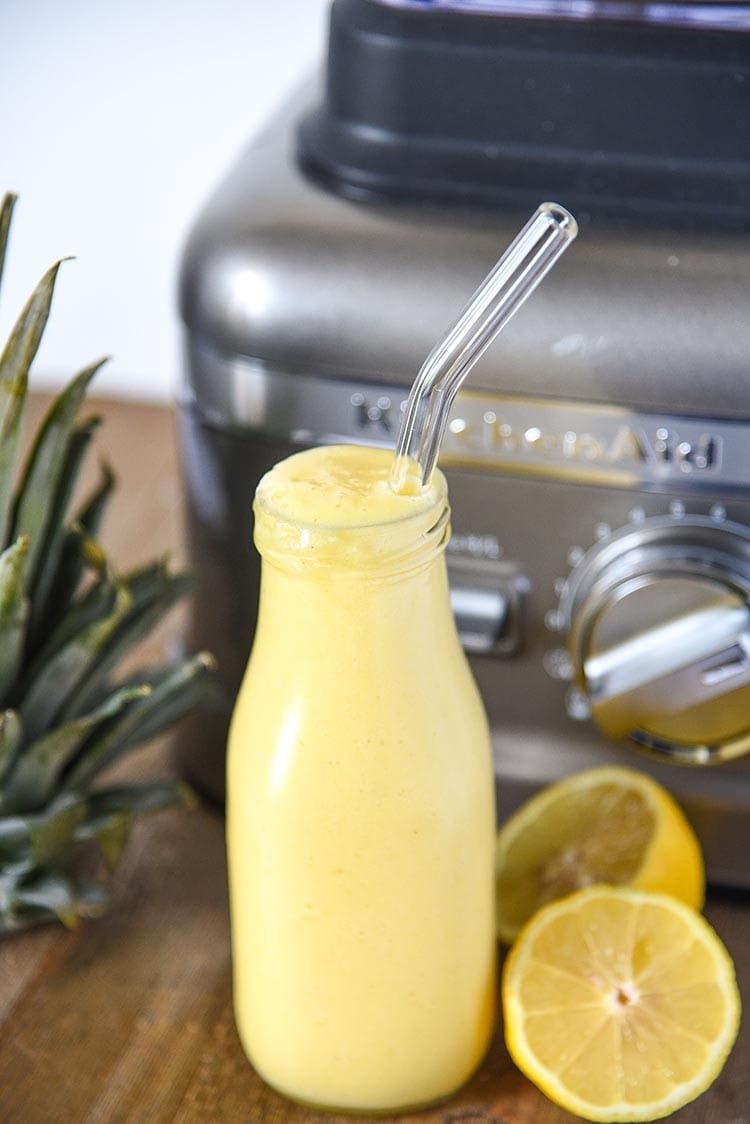 While we enjoy juicing, we really prefer to use a professional high speed blender when making any type of fruit juices or fruit smoothies.  Using a blender makes this a simple lemonade recipe! Most fruits have tons of pulp, they don't have a gritty fiber like carrots.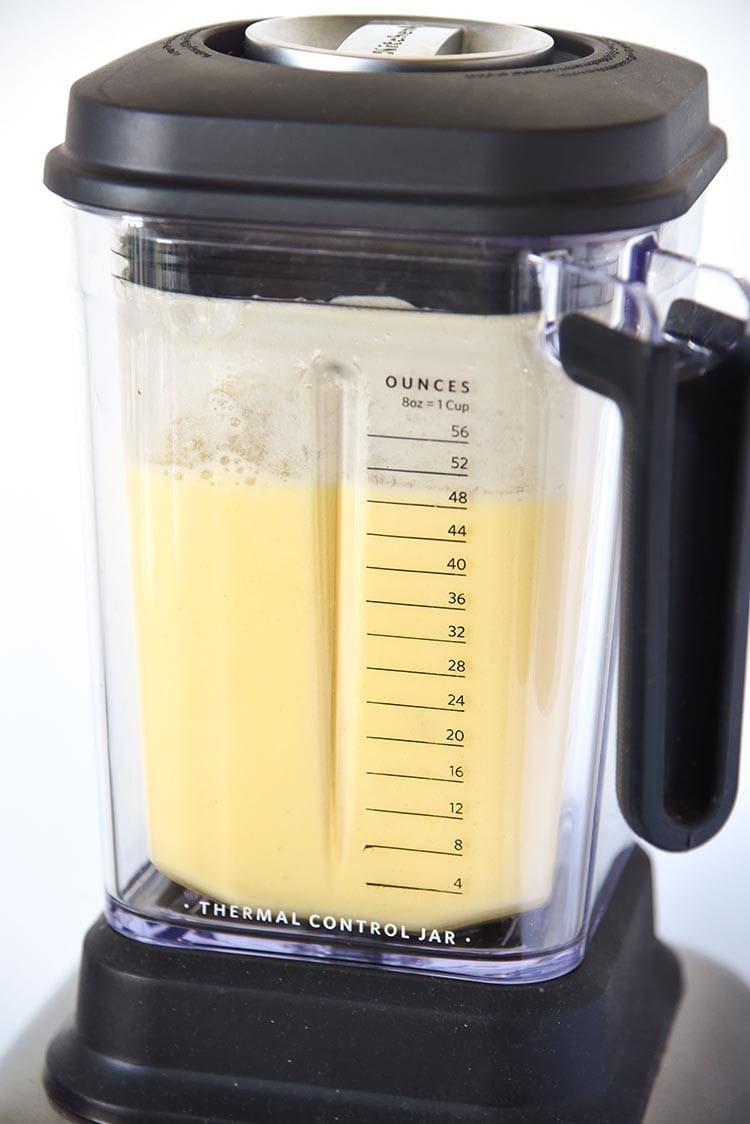 Have you ever blended carrots?  We prefer to juice or eat them whole.  There's no need to waste any of that juicy fruit goodness in a juicer.  Pineapple is so off the charts incredible when fully ripe.  The sweetness you get from it lends itself to whatever you're making.
Pineapple is loaded with Vitamin C and Manganese.  It also contains vitamins B6, B1, Fiber, Folate and Copper.  Just one cup of this tropical fruit is about 80 calories.  It's great for inflammation and bromelain makes it good for digestion.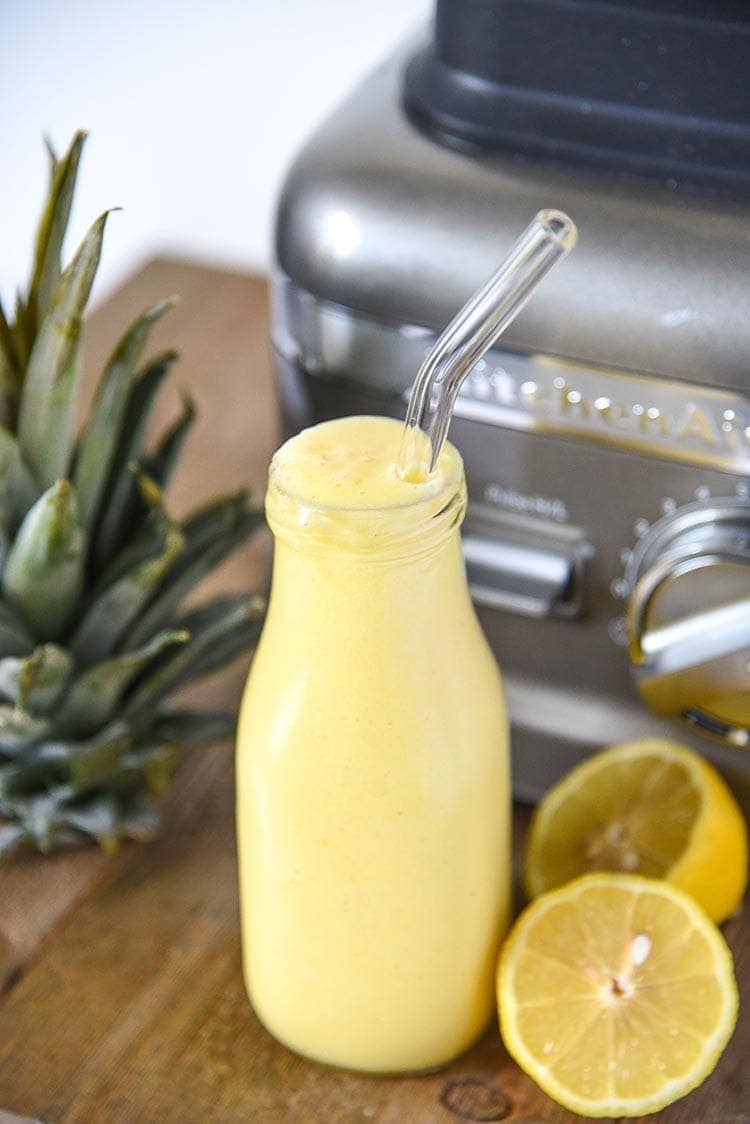 There's no need for any added sugar in our Pineapple Lemonade Recipe.  The tart lemon gives you that traditional lemonade taste and the pineapple sugars mellow it out.  If you don't like the tartness from regular lemons you can use the sweeter Meyer Lemons.
We use small glass bottles if we're serving to friends and family. If it's just for us, we pour it into a large mason jar and drink it through a stainless steel straw or glass straw. You can buy stainless steel straws online in different varieties, we even have ones with a slight bend like you see used in our Strawberry Banana Oatmeal Breakfast Smoothie recipe.
Pineapple Lemonade Recipe
Ingredients
1

Ripe Pineapple

chopped into pieces

Juice of 2 lemons

Handful of Ice
Instructions
Place into your blender and blend until smooth!

note: if you like it a little sweeter you can add in a little honey or stevia extract
My favorite color is yellow and the color of this Pineapple Lemonade Recipe is so vibrant and exciting.  Don't you just love eating color?!  I truly enjoy eating the rainbow.
Whenever we're at the farmers market our daughter will not only point out all the fruits and vegetables she knows, but she'll also tell us all about the colors.  We look forward to our farmers market trips and never miss a single one, not even on vacation!  It's so important to support local businesses and also save a little bit of money while you're at it!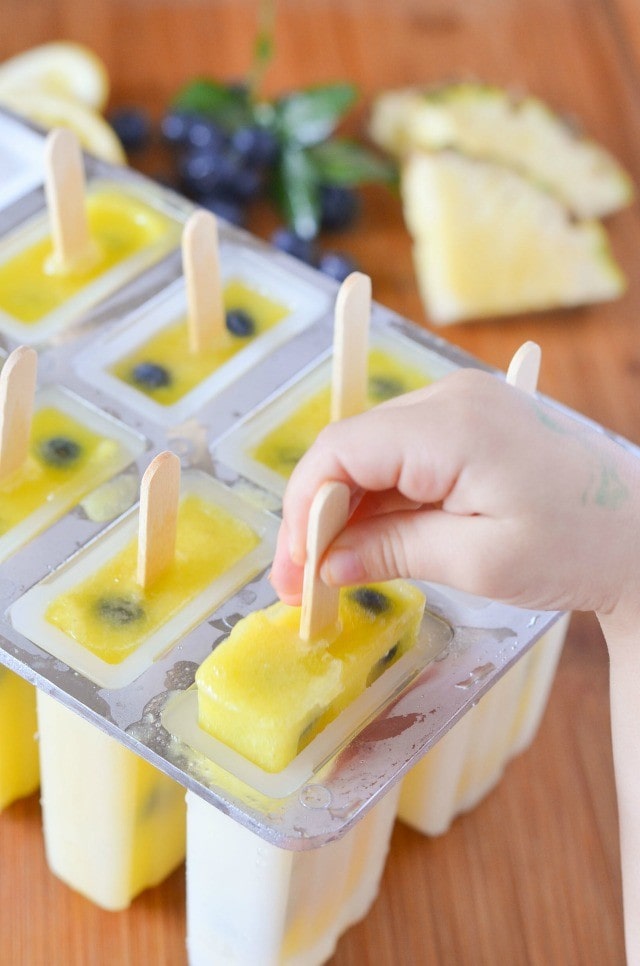 If you'd like to try our Pineapple Lemonade Recipe in another way check out our post over at Super Healthy Kids where we made Pineapple Lemonade Ice Pops with Blueberries. You're going to love it!
You can find the ice pop mold online as well. Plus you can feel better about serving this to your friends and family.  No artificial colors, preservatives, flavors, and most importantly not loaded with sugar.  We let our daughter eat two of them, she was obviously very happy! 🙂
Don't forget to wash your produce, make a batch of our Fruit and Veggie Spray!
Did you enjoy this post? Click here to pin it for later.  Also check out all of our other favorite Pineapple recipes and posts on Pinterest!